Originally created for the Portland Chinese Times by Leslie Hildula, Jade District Business Liaison from Small Business Development Center at Portland Community College.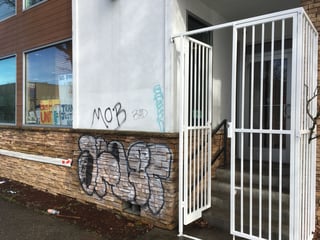 On May 9, 2017 the City of Portland cleaned the J&P Accounting building on SE 82nd Avenue, which had been defaced by graffiti, for free.
In spring, as the days become longer and warmer, we typically see more graffiti. The City of Portland requires building owners to remove graffiti within ten days, but it is much more effective to remove it within 24 hours since graffiti artists are looking for an audience; and if their work is painted over before people see it then their main reason for doing it is frustrated. If the building owner consistently eliminates the graffiti on the day it appears then the artist will usually move on to another canvas.
Graffiti may be seen as art in rare cases but mostly it's a frustrating nuisance in our neighborhoods. This is especially true for the building owners. To assist them, the City will pay to remove graffiti from a building once a year. Ongoing removal is the responsibility of the building owner. Most owners use a paint that exactly matches their exterior color to paint over graffiti. Sometimes power washing or a special solvent is needed to remove it from brick or other natural surfaces. A sealant can be sprayed on surfaces to make them easier to clean.
Building owners who do not eliminate graffiti within ten days may receive an abatement notice requiring them to do so. Failure to comply within ten days may result in the City paying for its removal and charging the building owner. The city's program manager will keep account of all expenses, including an overhead charge of 25% for program administration and a civil penalty of $250 for each instance of graffiti abatement, which is invoiced to the building's owner.
So like many frustrating issues in life, it's best to deal with graffiti promptly. Otherwise, it just gets worse and more expensive.
For assistance in graffiti removal email the City of Portland at graffiti@portlandoregon.gov or call 503-823-4824. See the website www.portlandoregon.gov/oni/38630 for more information. To report graffiti to the City call the number above or use the PDXReporter app on your smart phone to report the location.
Information provided by:
Juliette Muracchioli, Graffiti Abatement Program Coordinator: juliette.muracchioli@portlandoregon.gov