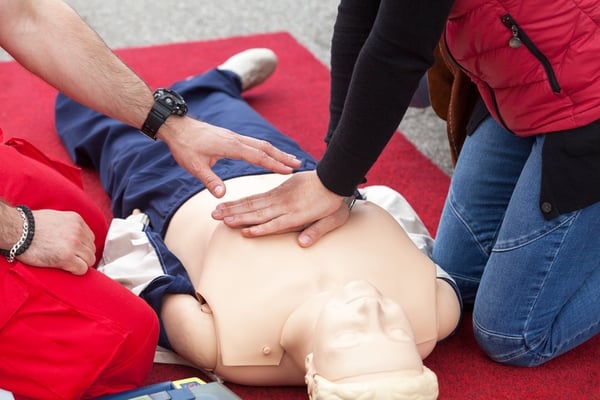 Across the country, hundreds of thousands of people participate in American Heart Association (AHA) trainings every year, and many of these courses are available at Portland Community College's Institute for Health Professionals. These cardiology-focused trainings help nurses, doctors, medics, and even professionals in non-healthcare settings be ready to support or save a life at a moment's notice. The American Heart Association is the top provider of these trainings in the United States, offering evidence-based strategies that help in a cardiac event.
These trainings are so important that they're required for professionals in the healthcare field, and often for other types of employment. You may need to pass these trainings and gain AHA certifications to start or further your healthcare career, whether you want to be a nursing assistant, physician, or advanced practitioner.
American Heart Association Courses
The AHA provides a variety of courses that teach participants vital skills. By taking one or more of the following courses, you can help care for others and ensure you are meeting your job requirements.
Basic Life Support (BLS) Provider Courses
BLS Heath Care Provider Course is for all heath care providers and is required for most practices. All of our Basic Life Support classes are for Health Care Providers. This distinction prevents the lay public from signing up for this course. This course uses medical equipment that non-medical professionals would not be trained in using. This includes a Bag Valve Mask (BVM) and Airway Adjuncts. BLS also uses the team approach to maximize effective team dynamics. Integrating initial providers and advanced level of care providers.In these courses, you'll learn skills such as:
Cardiopulmonary resuscitation (CPR)
Relieving choking (Heimlich maneuver or other methods)
Using an automated external defibrillator (AED)
Recognizing signs of a life-threatening emergency
These support courses are important for home health aides, certified nursing assistants, and other caregivers.
Advanced Cardiac Life Support (ACLS) Courses
ACLS courses build on BLS training, giving you more skills to handle life-threatening cardiac emergencies in adults. Following this course, you should be able to:
Recognize signs of cardiac arrest
Begin management of cardiac arrest through CPR or other means
Identify signs of respiratory problems
Provide support after cardiac arrest
Understand the signs of heart attack and stroke
Start management of heart attack or stroke
Communicate with other health professionals who are providing resuscitation support
Be able to connect and read an electrocardiogram (ECG)
This course can help you manage care until more emergency support arrives or the patient can get to a hospital for treatment.
Pediatric Advanced Life Support (PALS)/Pediatric Emergency Assessment, Recognition, and Stabilization (PEARS) Courses
These two courses focus on the assessment and treatment of pediatric cardiac emergencies, which can be very different than adult emergencies. PALS emphasizes prevention, early recognition, and treatment for respiratory emergencies and shock emergencies. PALS also includes managing cardiac instability, arrhythmias, and cardiac arrest management. PEARS emphasizes the recognition of emergencies and getting additional help. Focus is on initial treatment in respiratory emergencies, shock emergencies, and cardiac arrest management.
After completing these courses, you should be able to:
Provide CPR for infants and children of different ages
Use and read an ECG
Clear and manage airways in children
Assess and recognize cardiac emergencies
Manage cardiac emergency care until more support arrives
Healthcare providers who work primarily with children benefit the most from these courses, though they would also be beneficial for medics or nurses who work with a variety of age groups.
Heartsaver Courses
Heartsaver courses are available for adults who don't have medical training, but should be able to assist in an emergency. These courses teach skills like:
CPR for adults, children, and infants
AED use
Recognizing injuries, cardiac arrest, heart attack, stroke, or other emergencies
First aid to care for injuries or other medical emergencies
Responding quickly and appropriately to emergencies until further help can arrive
Heartsaver courses are popular among caregivers who may not have medical training or are still learning.
Whether these courses are necessary for your current job or not, they provide skills that could help you save a life or start a new career. Find the American Heart Association course that suits your job requirements, your career goals, or even your day-to-day life at Portland Community College.