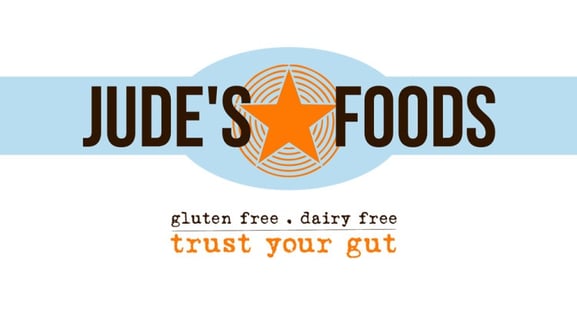 Image source
Josh Fegles is the creator of Jude's Foods, a gluten free baking company specializing in chocolate chip cookies. Josh started his company in response to his son's gluten allergy and with the help of the SBDC, his family is able to share their special cookies with the world (or at least Portland, for now).
After taking the program what was your journey and timeline like? I believe you had this preconceived idea about what you wanted to do coming into this program, is that what happened for you, and who did you sell to first?
After taking Getting Your Recipe to Market, we took all the momentum that had naturally come out of our home kitchen and out of our enthusiasm for what we were discovering and we created our business. We started with New Seasons and that was as a direct result of the connection through the course. It took us 4 months and we started with a domestic kitchen but after going through one order for New Seasons with my own small oven, I realized this is never going to work – so I got into commercial kitchen shortly after that. We were in the commercial kitchen for about 3 years and really got to max capacity because we were doing the mom and pop kind of thing, you know, grandparents, siblings, everybody coming in to work on this endeavor. And all the while working toward a co-packer, which was something that I was introduced to through the classes, it was a new idea I never thought about. I knew early on that a co-packer was where our business needed to go, and so over the last 3 years it was a matter of taking really good care of New Seasons, they'd taken really good care of us, so we sold only to New Seasons for 3 years while working toward getting the co-packer. This last fall we just got into a co-packer, now we have production capabilities beyond what mom and pop were able to do. Last week I met with Market of Choice and they've agreed to bring us on, which is really exciting.
What are some of your top five lessons learned that you'd like to pass on to this group; things that you think are really important as you're just starting out on this journey?
I learned how faithful family can be, and not to have such high expectations. Thinking that we could get going with a co-packer in a week or two and come to find out there's a lot of RND and there's changes in packaging, and then there's different ingredient sourcing. Ehere's so much involved it was actually a very lengthy process. If my family hadn't been available, I would've had to change the direction of the company to hiring people. There's no way I could've done it on my own. I learned early on as an entrepreneur I'm very inspiration driven, I'm very people driven, I'm not as numbers driven. As we grew and figured out what the business demanded was it forced us to raise our price. And then we thought "What's gonna happen?" And the costumers responded well and now we're in a good spot.
So I know that coming through the program you were encouraged by your business advisor at the SBDC to chose your best product to take through the program, or best product or two, but you now have new products perhaps that you brought into the market place. How did you know when it was time to innovate? What kinds of things did you look at in the market place to know that it was time to bring a new product in?
I've got just the one chocolate chip cookie to market and I've developed three other formulas and recipes, with the Innovation Center and those are just on the back burner waiting. I got some really good advice once to go deep with a product before you go wide. A couple years ago I was meeting with Tammy and I wanted to just bring a ton to market and I hadn't really gone very far yet with the one cookie. So for me what I'm doing is continuing to work the plan, I got a few more elements that I want to explore and expand into before bringing in that second flavor. Similar to what you're saying too, there is a lot of cost involved in the new packaging and buying that in bulk, and then the RND and different things. It has to be very calculated.
Watch the full symposium with Jude's Foods and River Wave Foods here: