Taking a holistic approach to improving pollinator health, Emily Parker, Rebekah Golden and Emma Egstad promote sustainable, bee-centric beekeeping and native bee awareness in the Portland area.
"Give me spots on my apples, but leave me the birds and the bees." Joni Mitchell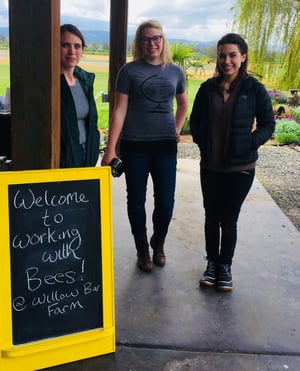 Bee & Bloom owns and operates two educational apiaries (Oak Grove and Sauvie Island) as well as an online resource that covers the many facets of working with bees. Emma, Rebekah and Emily teach classes and offer hands-on workshops on all bee-related topics. Additionally, Bee and Bloom offers management and consultation services to beekeepers throughout the Portland metro area.

What inspired you to start Bee and Bloom? Modern beekeepers are facing a wide range of challenges, and because of this, nearly eighty percent of new beekeepers call it quits before their third year. Becoming a successful beekeeper requires a serious commitment to learning the craft, but the large amount of conflicting information available makes that a difficult task. We strive to blend the latest scientific research with an experienced hand to help urban beekeepers (and their bees) succeed.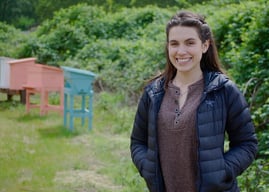 It's not just the honey bees that are in trouble, though! We are passionate about introducing folks to the other ~4,400 native bee species in North America, and spreading the word about what can be done to help them, as well.
Before coming to the SBDC what challenges were you facing in your business? We began with a comprehensive knowledge of our field, but limited knowledge on running a business. From financial projections to project management to marketing, we realized pretty quickly that we had a lot to learn!
How has the services or programs helped you overcome your challenges? Meeting with Senior Advisor (Sean Harry) was incredibly helpful right off the bat. Having an objective and experienced outside opinion of what we were doing prompted us to ask ourselves some tough questions and bring a focus to what we were trying to do. The Small Business Builders course illuminated the ins and outs of starting up a business and gave us a framework in which to get started. It sped up our learning curve considerably, and made the process significantly less overwhelming!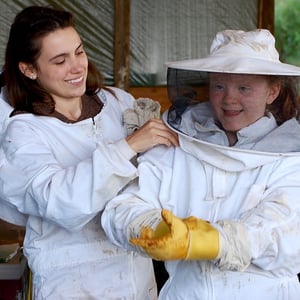 What have you done differently in your business since working with the SBDC? The biggest change for us was learning how to set proper goals. We have been able to clearly define the goals we want to meet and create actionable steps to meet them. We've also been able to put systems and processes in place (like accounting software and project management tools) that have made our lives a whole lot simpler!
How is your business doing now? We are one year in, and things are better than we could have ever expected! We've opened a second educational apiary, our client list is growing and while we are staying busy - we don't feel exhausted and overwhelmed.
What would you say to other small business owners thinking of working with the SBDC?We absolutely encourage small business owners to work with the SBDC. The resources and support from experienced entrepreneurs have been invaluable to us - and it's been a lot of fun!
Bee Friendly Plant Tips for the Pacific NW: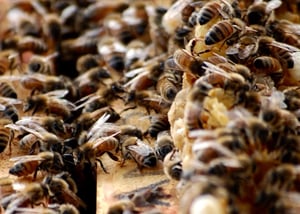 Plant native plants when possible to attract native bees

Stagger plants blooming periods for bee food all season long
Plant clusters of the same types of plants to make foraging easy & attractive to bees
Purple & blue colored flowers are particularly attractive to bees
Allow some herbs and cruciferous veggies to flower (collect the seeds for next year)
Emily, Rebekah and Emma participated in the Small Business Builders class in 2017 and have seen their business grow!