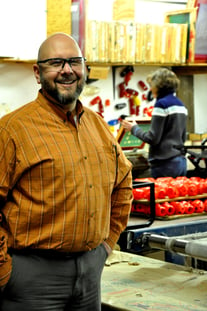 Mark Newman's business story starts in Columbus, Ohio. While working for a major tool manufacturer, Mark started a miniature-horse cart company. He wanted to grow his business, but realized the cart business would not generate the profits he desired to support his family. With some insight from a friend, Mark decided to buy a business.
He solicited the help of the local Small Business Development Center in Columbus. There, his business counselor helped Mark evaluate potential business opportunities , which led him to Portland, OR where he was able to connect with the Portland Community College (PCC) SBDC.
At the PCC SBDC, Mark received assistance from the Capital Access Team to secure an SBA loan to buy Protoco Enterprises, LLC, a 30+ year old established manufacturer in North Plains. In 2008, Mark purchased Protoco and relocated his family to Oregon. Mark continued to receive business advising and further enhanced his business knowledge by participating in several small business management (SBM) programs including Small Business Builders (formerly known as SBM 1), Small Business Management (formerly known as SBM 2), Advanced Small Business Management (formerly known as SBM 3), and International Trade SBM.
"I wasn't sure what to expect [when I came to the PCC SBDC]. I thought it would be some more business advising, but then I didn't know they had the courses. When I learned they had the courses, it was nice to keep you a little more well-rounded. Thinking about your marketing plan, your sales, your numbers - thinking about all these different aspects to your business that a lot of times you get caught in your office and you don't think about those things. I've often thought about going back and taking one or two of the classes over because it does keep you thinking about social marketing, what's new, that's what's nice about that."
One of Mark's biggest takeaways from the small business management programs and advising was a more thorough understanding of his financials. Through learning about financial ratios, he determined that his sales to labor ratio was unbalanced, and from there was able to create a plan to keep it in line. In addition, at the advice of their business advisor, Protoco regularly uses a business scorecard that guides their business decisions. Protoco employs 10 full-time people, has a factory in Mexico, exports all over the world, and Mark has plans for more growth. "I've got my 3-year, 5-year, 10-year plan so I got growth in my future."*