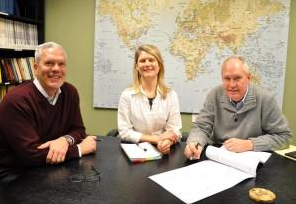 An important part of owning a business is finding the right niche for your services. Just ask John Duval, an engineer and business owner based in Portland area. John owns Pavement Services, a business which is exactly what it sounds like: it's an engineering firm that specializes in pavement.
When the economy faltered in 2008, John was laid off from his engineering job. It turned out to be exactly what he needed to make a tough decision: he finally decided to go into business for himself. With his credentials as an engineer, along with the client contacts that he'd built up over the years, John bought Pavement Services, a civil and geotechnical engineering firm specializing in roads. After taking that leap, he grew to love owning his own business because of the independence and the ability to strategize and follow through on decisions that affect the company. "It's pretty amazing that you can make a career out of blacktop," John likes to say.
"Blacktop" isn't as simple as it looks: the engineers at Pavement Services have to consider the full life cycle of the pavement. In other words, they are experts in "how to design, construct, maintain, rehabilitate, and manage pavement systems," John says. Most of their clients are state, county and municipal agencies — as well as airports, port authorities, and highway departments. In fact, although Pavement Services is based in Portland, they actually perform design and planning work for clients around the world.
John had advanced training, technical knowledge, and plenty of engineering experience when he started Pavement Services — but he still needed to learn how to run a business efficiently. He enrolled in the PCC SBDC Oregon Department of Transportation (ODOT) Small Business Management program (now ACE's Small Business Management), geared towards small business owners seeking to do work with ODOT. "It was 19 contractors and me," he says, "but we faced a lot of similar issues." John learned the basics of financial records and bookkeeping and how to keep track of transactions; "it was really helpful" he says.
Five years after starting Pavement Services, John is looking back on the company's progress and envisioning a future plan to grow the business. "The planning process is the most important part, rather than the plan itself," John told us. "It forces you to do some research, to think about your mission statement, who your competitors are…these are very important ideas." After developing a business plan, he says, "we can really target and be specific about who we are, who are competitors are, and who are clients are."
To any small business owners who are debating whether to get services from the SBDC, John had this to say: "There shouldn't be any debate. My work with the SBDC is an essential part of my education as a business owner."