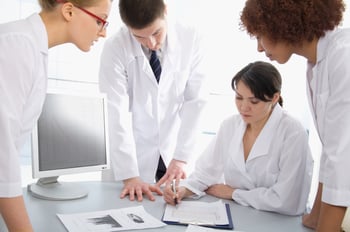 Choosing a career in healthcare is not only rewarding, but needed! According to a recent survey, there is a healthcare professional shortage in America due to baby boomers leaving the field and healthcare professionals moving up to higher paying teaching jobs. This shortage of healthcare professionals is creating a real need for emerging healthcare workers. If you have ever considered entering the healthcare industry, there is no better time than now. The following eight tips for choosing a career in healthcare will help get you started today.
1. Determine Why You Want to Work in Healthcare
Before committing to healthcare training courses and certification, determine why this industry sparks an interest in you. Dedication and commitment are needed not only for training courses but also when you are in the field working with patients, other medical professionals, or behind the scenes. For example, are you considering phlebotomy? Make sure you don't grow faint at the sight of blood. After all you will be drawing blood for the majority of your workday. Some of the more frontline positions (phlebotomy, pharmacy technician, and patient access) require an outgoing personality and a desire to work directly with people. If you aren't a people-person, consider other behind-the-scenes options such as medical coding or sterile processing technician.
2. Decide What Lifestyle and Schedule You Desire
Healthcare jobs have great flexibility to accommodate your desired lifestyle. If you like the typical 9-5 workday, there are plenty of positions available. Are you a night owl? Many positions and jobs offer night shifts — second and third shifts. Some require weekend hours and others allow flex schedules. For example, while most companies expect medical coders to work a 40-hour work week in an office setting, some businesses allow medical coders to work from home or offer freelance positions with more flexible hours. Think about what schedule and lifestyle you prefer as you decide what healthcare position is best for you. There are a number of scheduling options available.
3. Determine Where You Want to Work
You also have different workplace settings to choose from. Do you think you'd like a fast-paced environment like a hospital, clinic, or emergency room? Or would you do better in a workplace with scheduled appointments, non-emergency walk-ins, and/or an office setting away from the action? A phlebotomist, for example, can work in a lab, emergency room, blood banks, nursing homes, or private practices. Determining the workplace setting you would most desire is important when beginning your healthcare career. You may find that as you try different settings your interests change over time; there are plenty of workplace settings in the field to choose from.
4. Remember: Your First Job Doesn't Have to Be Permanent
Healthcare is a field that offers many opportunities for growth and diversification of roles. Beginning in an entry-level position provides experience necessary to try out other areas in healthcare and move up in your career. The first job you take doesn't have to be permanent and long-term. A sterile-processing technician — with further experience and often more education — can eventually move into higher roles such as: emergency room RN, a surgical technologist, or an LPN. Choosing your first career in healthcare will eventually help you to decide which path is best for you.
5. Research! Research! Research!
When pursuing different careers in healthcare, spend time researching each company you apply to or that offers you a job. Though you may be tempted to take the first position you are offered without hesitation, the time spent researching the company by reading about it, asking others in the field, or researching current employee and patient reviews, can help you in the long-run. You will also begin to develop an understanding about what matters to you when choosing an employer. A paycheck and benefits are just some of the reasons for choosing a job; be sure your mission and values also align with those of the company.
6. Know Your Worth
Do you know what the average pay is for your desired job? You should. Knowing your worth is invaluable when looking for a job. There are free online resources available to help you search for your position's median pay and career path options. Did you know, according to payscale.com, the national annual median salary for an entry-level Certified Pharmacy Technician is $30,450? This position has the potential to earn up to $37,872, which includes overtime, bonuses, profit sharing, etc. Knowing if your position pays hourly or salary or offers overtime is helpful, too. Be well prepared and know your worth!
7. Set Future Goals
Don't forget to set future goals. Where do you want to be in your career in 3, 5, or 10 years? Wisely choosing your first career in healthcare will help you move towards your future goals and make your work fulfilling. If you know that you would like to become an RN, choosing an entry-level healthcare position now, with the potential to lead you towards nursing, will save you time, money, and keep you excited for the future. Spend time researching healthcare careers and plan your future accordingly.
8. Talk to Others in Your Desired Field
The best advice is often given by those who have walked the path you are about to embark upon. Talking to people who do the job you want to do is invaluable. Ask questions. Speak to a variety of people and see if there is a common theme. This isn't meant to discourage you away from the job. Instead, it will help you to get a feel for the reality of the day-to-day job, which can help you determine whether you truly want to choose a career in healthcare.
Healthcare jobs offer flexibility and career path options, and with a recent shortage in healthcare professionals, the doors are wide open. Choosing your first job in healthcare takes careful consideration, planning, and research on your part to ensure you are choosing the best job and/or certification for your lifestyle and future.