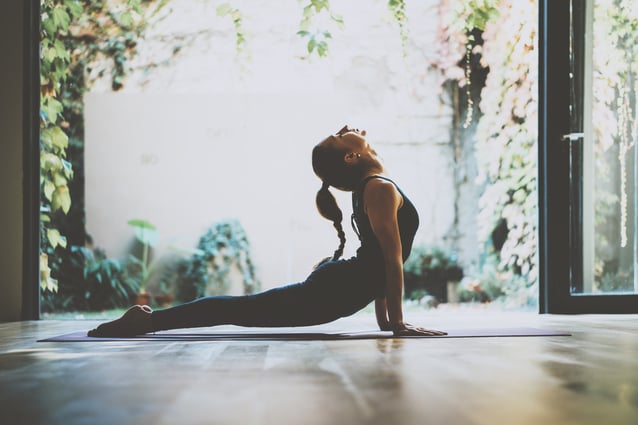 One of the main reasons people practice yoga is that it feels better than not practicing yoga. That may seem obvious, but as more and more people try incorporating an Ayurvedic yoga practice into their daily lives, they discover that yoga's benefits are well-documented in scientific studies. Whether you're interested in the benefits of Ayurveda more broadly or are curious about how to learn ayurvedic yoga, Portland Community College's Ayurvedic Yoga health program can provide valuable insights for a variety of healthcare practitioners, yoga instructors, or other fitness professionals.
Learning the benefits of yoga for health can help you incorporate yoga more intentionally in your own life or recommend yoga more thoughtfully as a healthcare or fitness professional. Here are six of the benefits you might not have known before.
Improved Upper Body Strength
Many yoga poses include static or movement-based poses that rely on your arms supporting various elements of your body weight. You achieve this by maintaining positions similar to a push-up, standing with your arms outstretched or over your head, or other poses using your arms. Many people have reported that the movements in yoga help them build the strength they need in their upper body to do everyday lifting tasks with greater ease.
Better Mood and Cognitive Abilities
Mental health components like perceived stress and symptoms of depression made up parts of studies to analyze the benefits of yoga, and subjects see improvements in both while participating in yoga-based protocols. There have even been enough neuroimaging studies on patients participating in yoga to hypothesize that executive functions like motivation and attention could even be affected. Yoga improves and protects one's cognitive abilities in ways that could help one's brain over time.
Helps Manage Back and Arthritis Pain
Yoga teachers train to know potential sources of back pain and help students learn to find the edge, where they effectively stretch and work their backs without causing injury or pain. As a result, many of the stretching and aligning elements of yoga help decrease back pain, according to several studies. It's part of an overall picture shown in various studies of yoga that shows that inflammation seems to be reduced by regular yoga practice, resulting in lesser pain and discomfort from conditions related to inflammation, like arthritis.
Improves Your Metabolism
Anaerobic exercise, such as holding strength-driven poses in a yoga class, has been linked to increasing your metabolic rate. If you participate in yoga classes, be aware that the more movement-heavy classes don't strongly correlate with an increase in metabolism. Still, anything that pushes you on a strength front is impactful and could increase your metabolic rate.
Protects Heart Health
Improving one's breathing through intentional breath series like those practiced in yoga generally have improved cardiovascular health. Inflammation reduction is also crucial here since many symptoms of heart disease are either accompanied by or caused by excessive inflammation. 
Improve Your Sleep
While more studies show that exercising regularly, in general, will improve your sleep, at least one study shows yoga brings something unique to the table when working to improve sleep. Yoga's combination of breathwork, exercise, and a focus on mindfulness and calmness seem to work well for promoting deeper sleep and helping those who suffer from sleep problems to fall asleep more easily.
In-Depth Understanding of Ayurvedic Yoga in Portland Oregon
Of course, not everyone will see significant gains in every practice in yoga and the benefits it has on health. However, in particular, ayurvedic yoga goes beyond what you'll find in a typical fitness-center-style yoga class. It teaches the integration of things like the ayurvedic herbs, aromatherapy, philosophy, and knowledge of the body's systems so that physical poses are part of a wider body of wisdom about how our bodies function, as well as how adding and understanding yogic principles can improve overall wellbeing.
While many people choose Portland Community College's program out of a personal desire for growth, there are many ways in which ayurvedic yoga benefits people outside of personal practice. Healthcare providers who work with homeopathic medicine or whose patients trust yoga and Ayurveda as ways to work on a holistic approach to health and healing can use this knowledge to significant effect. Fitness professionals, either athletes, trainers, or other workers, can incorporate the principles they learn in this coursework to give their customers and themselves the best chance at long-term health to sustain their high performance in a fitness or athletics setting.
Want to learn more about how ayurvedic yoga can bring benefits? Learn more today!