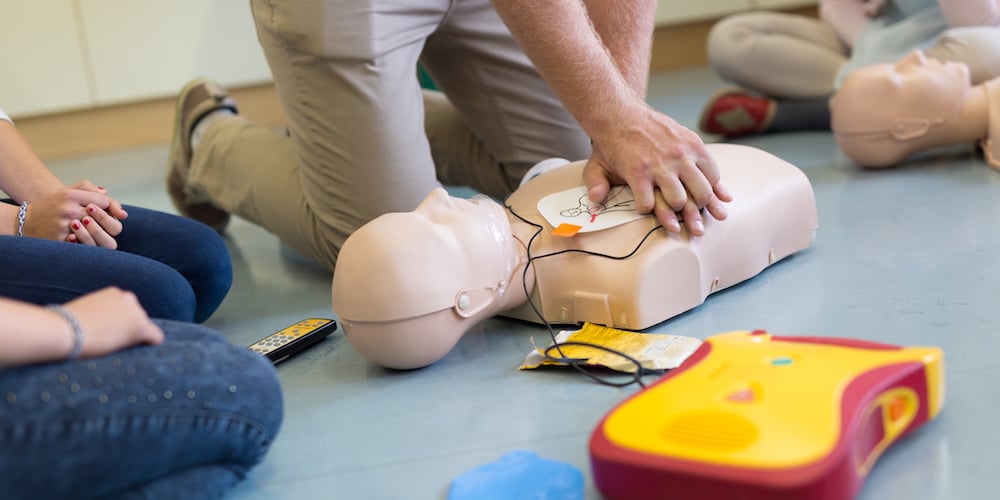 Updated Feb. 1, 2022
At the PCC Institute for Health Professionals (IHP), we pride ourselves on providing a wide variety of thorough, engaging, and student-focused courses for today's health professionals. Since 1997, IHP has been the preeminent American Heart Association (AHA) training center in the Oregon region.
Our high-quality AHA courses include Basic Life Support (BLS), Advanced Cardiovascular Life Support (ACLS), and Pediatric Advanced Life Support (PALS). Whether you're looking to expand your knowledge through cardiology continuing education or receiving your first American Heart Association Certification as a health professional, our program is designed with the student in mind. Here are six reasons why you should consider PCC Institute for Health Professionals for your certification needs.
6 Reasons Why You Should Take Your AHA Training at PCC Institute for Health Professionals
1. At the Forefront of Training
The field of cardiology is continually changing — which means that relying on old, outdated training could leave you with yesterday's skills. That is why it's essential to pick a program that dedicates itself to being ahead of the game and commits to following the latest knowledge from medical experts. Our training is constantly updated so that it adheres to both the AHA guidelines and the latest in cardiology medicine and science.
2. Provides Participants with Universally Recognized Training Cards
With credentials in life-saving training being highly sought after, many hiring managers and supervisors want to see proof that you have taken the steps to complete your training and certification. PCC Institute for Health Professionals gives those who complete the program AHA course completion cards that clearly show the work you have completed.
3. Taught by Experienced Instructors
Your instructors won't just be a person reading from a manual or training book. IHP instructors are all trained practitioners with years in the field. They are there to talk you through real-world situations as well as to provide you guidance in best practices in healthcare fields.
4. Teaches More Than Just the Basics
As a professional or professional-to-be, you know that what is written on paper isn't the scenario you will see when you are practicing medicine. Coursework at the IHP is not just rote learning, but an immersion geared toward teaching essential skills. These include a large focus on team building and critical communication.
5. Conveniently Located
AHA continuing education is taught at the PCC CLIMB Center for Advancement. Located at the central eastside of Portland and nearby the OMSI, there is a large parking lot accessible to all students. In addition, the nearby main streets and freeways make it a perfect facility for almost every Portland resident or health professional to visit.
6. Class Schedules with You in Mind
We understand that attending training courses can, at times, be inconvenient, especially for busy health professionals. We took that into consideration when scheduling AHA training courses by offering students at PCC CLIMB weekend, evening, and weekday options.
Matching Your AHA Training Needs with Professional Development
Training for your AHA certification shouldn't be costly, time-consuming, or underwhelming. Find a program that is student-centered with the professional in mind. Also, look for options that give you the quality expertise to build upon your current skill sets. At the PCC Institute for Health Professionals, we hope to develop and promote the lifelong learning healthcare professional.
And, if you need customized options including training at your site or for a specific team of professionals, PCC's Institute for Health Professionals can work with you to design specific training for your organization.