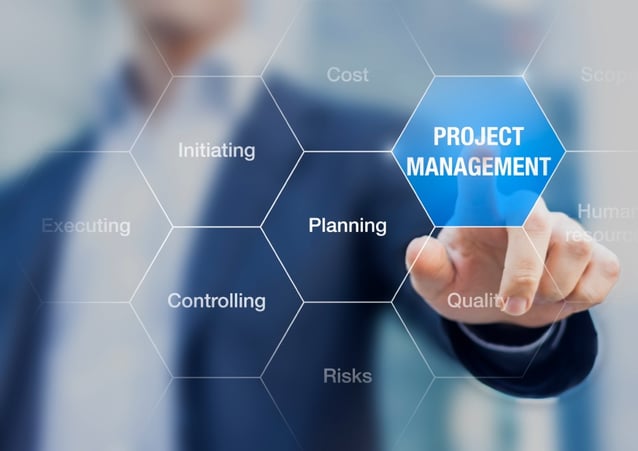 Businesses large and small can see major benefits from using a project manager. Even your team — or you as a business professional — can experience the benefits of being trained in project management. That's because the concepts that underlie project management are essentially a playbook for success. Today's article will discuss the benefits of having someone on your team who is trained in project management.
1. Efficient Delivery
Following the tenets of good project management means you and your team are taking advantage of a road map to project delivery. That isn't to say that there won't be delays or problems that pop up, but it does mean that you already have a plan, and processes, in place to determine how these bumps in the road should be handled. It also means that your team doesn't have to reinvent the way they work from scratch or get lost to scope creep. You don't want to have to be working hard and long, and you do want to be working SMART — i.e., working with a plan that is specific, measurable, agreed-upon, realistic, and time-based.
2. Effective Pattern of Delivery for Quality
While no two customers are likely to have the same exact needs, the project management road map is the path you take to create each individual plan that you need, a pattern of actions and behaviors that effectively lead to the completion of a project with utmost quality. It's a pattern and process (a template, if you will) that can be reused to best understand what each client is asking for so you can best deliver what it is that customer needs without drawn out start-up periods or missing any of the project's details.

>>Learn more about project management fundamentals and upcoming course dates


3. Project Flexibility
One of the best benefits within the project is the flexibility this type of template offers. The template is a framework that means if your team finds a more efficient way of doing something, they also have the tools to redirect without wasting time or losing ground. That also means your team has the tools to discover better methodologies and procedures. For a business, that alone brings a value that pays for itself. It also makes it easier to determine whether or not a project is going to work, or if it needs to be scrapped because it's unrealistic or unfeasible.
4. Higher Quantity
Improved efficiency and improved quality means that your business will have more time and resources to take on more projects. It isn't just about saving time either, it's also about saving on the cost of each project. More projects naturally lead to improved revenue for development, and hopefully, improved profits too.
5. Enhanced Customer/Client Satisfaction
Not only meeting, but exceeding client expectations means that your customer is going to walk away happy, and thus is much more likely to come back to do more business. The project management tool box is exactly what you need to maintain and grow this business/customer relationship.
6. New Opportunities and Expansion of Services
Client satisfaction begins to build a positive reputation for your brand, and a loyal customer base also develops a solid referral system. New clients will have new needs, and with a stable quantity of work with new opportunities, you can look for ways that your business can grow horizontally and vertically.
7. Competitive Edge
Effective, efficient quality is hugely valued, and as you offer more to a stronger audience, your business also becomes a leader in your community or your industry.
8. Improved Risk Management
This kind of planning strategy gives you the maneuverability and clarity to perform effective risk assessment, and makes it easier for problems to all but obviate themselves, giving you the red flag when you need it, i.e., before you start working on the project. The problems that can't be foreseen are also easier to handle with lower impact on project completion thanks to the tools that project management skills give you.
9. Team Growth/Development
It may be that failure teaches us what not to do, but success through efficiency teaches your team something much better — the confidence to do things right. Success is inspirational and emotionally fortifying, which empowers them to take intelligent risks and proactively find creative solutions within the context of working efficiently. With morale on the rise, professionalism and a positive working environment will be more evident.
10. Better Project Decisions
In the end, what project management means for your team is all about the awareness and knowledge of project efficiency so as to develop and execute a project plan that can survive and still succeed in the face of the unexpected. It's a fact-based work process which gathers metrics and uses them to mark success and quality, or otherwise help the team determine what needs to be altered. When changes need to be made, it's a system that helps you minimize the amount of time the deadline needs to be pushed back or the extra funding that needs to be spent.
As you can see, the benefits to having someone on your team who is trained in project management are too good to pass up. If you already have someone on staff in your team who has this training, be sure you're taking full advantage of their abilities. If you've seen the benefits of being trained in project management and you're interested in improving your own career track, take a look at our Project Management Fundamentals and Intermediate Training courses. Our courses will give you the tools and processes you need to get your projects and assignments in on time and under budget, so contact us about enrollment today.