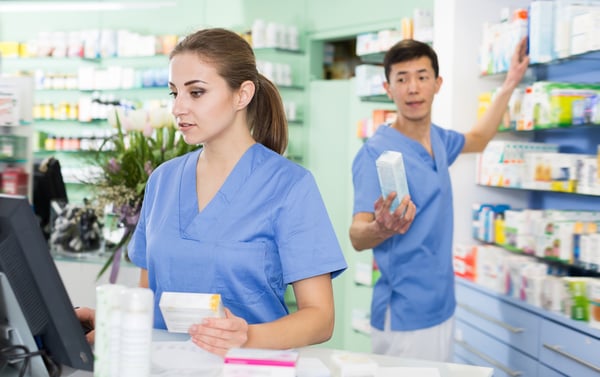 Pharmacy technician job prospects continue to represent a success story in the American economy in 2018. Data from 2017 demonstrates there were nearly 80,000 job postings nationwide – with over 1,700 opportunities listed in the Portland-metro region. At PCC's Institute for Health Professionals, students in the pharmacy technician program enjoy flexible schedules and can become qualified in just six months.
What does a pharmacy technician do?
Pharmacy Technicians (also referred to as 'pharm techs') support the operations of pharmacies – including those located at local businesses, nonprofit organizations and within hospital systems. Pharm techs are often the first point of contact for consumers, so they must have great communication skills (English proficiency is required for our program). They are also trained to acquire a command of pharmacy industry terminology, and can be responsible for organizing and preparing supply orders for shipment to patients. Read our blog about what you can expect as a pharm tech to learn more.
Who's a good fit for Pharm Tech?
Our training program is geared towards people currently working within the healthcare industry looking to switch careers, and those looking to get into the industry for the first time. Our programs offer flexibility by enabling students to take most coursework online, with one Saturday per week spent in the classroom. The course requires two terms to complete.
After successful completion of both terms, students will be able to:
Sit for the Pharmacy Technician Certification Exam (PTCE)
Use appropriate medical terminology for drug names, classes, body systems, common conditions, and diseases in everyday duties
Read, identify, and utilize information on medication labels, prescriptions, and DEA numbers to process medications and apply practices of patient safety and quality assurance
Apply pharmacological concepts to the preparation and distribution of medications, including the calculation of pharmaceutical measurements, incorporating compounding, sterile preparation, and aseptic techniques
Recognize pharmacy technology, including inventory management, ordering, billing, and electronic health-records systems
Integrate appropriate workplace interactions, professionalism and other soft-skills necessary for long-term employment
Financial Assistance.
Students interested in the pharmacy technician program can work with partnering organizations to acquire financial assistance. Qualified applicants may acquire financial assistance through Worksource, Healthcare Career Northwest Funding or the Oregon Promise Grant.
Contact us if you'd like more information about the program.