Wes Harwood is an instructor at CLIMB who teaches Bio-chemistry Foundations, Pathophysiology of Structure and Nerves, Pathophysiology of Metabolism and Immunity in the Functional Nutrition program and Advanced Cardiac Life Support, Basic Life Support and Pediatric Advanced Life Support in the American Heart Association and cardiology classes taught at PCC Institute for Health Professionals.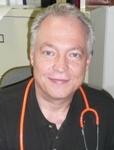 Why do you teach?
I have had the opportunity to experience a wide variety of healthcare client relationships and situations in my career. I enjoy sharing what I have learned through those and to see how they may serve to inform and support my students in their chosen healthcare field. In return, these same students teach me so much more from their life and perspectives. I am so grateful for that.
What is your real world experience?
I've worked as a Paramedic and a Physician Assistant. I'm also on the Board Certified in Holistic Nutrition® and Program Director for Paramedic Training Institute.
What kind of transformation do you see in your students during a course?No matter what the students enter a course with, there are always those "ah-ha" moments when their past knowledge and current learning come together in something "new." It is rewarding to see how the students who value their educational experience and put in the most consistent effort, get the most out of it.
Tell us about a time that you were most proud in your role as an instructor.
I, like most instructors, find the greatest satisfaction when students apply what they learn and make a difference in the world. This is particularly true in teaching the healthcare professionals. One of my proudest moments occurred when a RN, who completed our ACLS course here at CLIMB, took the time to contact me about her role in helping save a patient's life. Shortly after course completion, she had found herself in a situation where patient in her care suddenly collapsed, unconscious and pulseless. She surprised even herself in how clearly the skills she had learned in class came back to her and how she leapt into action, directing the team of providers in the resuscitation efforts. They were successful and the patient survived with no long term neurological deficits – a true "save." She was so appreciative of what she learned and so was the patient, I suspect.
What do you think your students value most about CLIMB?We at CLIMB IHP are devoted to exceptional customer service, client satisfaction and in providing the best possible educational experience. I believe that they find we are truly interested in their success as a person as a professional.
What is one major misconception you see about this field?
Functional nutrition delivered in an integrative healthcare practice is a new and evolving profession. Some students enter a holistic nutrition program such as ours expecting to "learn it all" and immediately "find the job of my dreams." The reality is that the learning here is intended to be foundational. They should realize that they will be entering a profession requiring life-long learning and perhaps will need more advanced education to grow and enrich their knowledge and skills.
What do you like to do for fun?
I read a lot, hike, golf, cook and am learning the guitar.