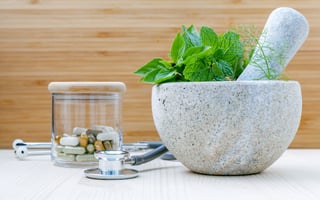 Integrative medicine combines Western approaches to medicine with more traditional ways of caring for the body and mind. These practices, when used together, can improve a patient's quality of life. For instance, cancer patients often need treatment with chemotherapy, a type of Western medicine. However, they can also benefit from nutrition therapy and acupuncture, which can help them keep their energy up and experience less pain.
Each year, more scientific evidence reveals how using integrative medicine can provide a more well-rounded approach to patient care and help with issues such as pain, stress, poor appetite and more.
One of the most important ways to use integrative medicine is to provide personalized pain relief. Chronic pain affects over 100 million Americans every year. One approach to relieving this pain, opioid medications, has been overutilized, contributing to America's current opioid epidemic.
An Answer to the Opioid Crisis?
The opioid crisis in America is one of the largest drug crises ever seen, claiming almost 40,000 lives every year. Medical professionals, lawmakers and many other organizations are making huge efforts to combat this problem, but the use of opioids continue to rise.
Current efforts focus on stopping the flow of drugs into communities, both legally and illegally. The efforts also tend to be led more by police instead of medical professionals, leading to punishment instead of treatment for the pain, both physical and mental, that initially caused opioid use.
Integrative medicine is currently underutilized in the effort to combat the opioid crisis. Integrative medicine provides viable, effective alternatives to prescribing narcotic pain medications. Integrative medicine can help reduce the dose needed to manage pain or even get rid of the need for pain medicines altogether.
Physicians can help stop the flow of legal prescription opioid medications into the community by teaching their patients about integrative medicine options and suggesting therapies to control pain, including:
Acupuncture

Guided imagery and relaxation techniques

Yoga

Massage

Spinal manipulation

Tai chi
Numerous studies have shown positive preliminary evidence that these approaches can help manage pain in personalized ways without the use of narcotics. These approaches can also help treat the root of the problem, the chronic pain that may have first led opioid users to seek out the drugs.
Integrative medicine approaches can also be useful in helping those already addicted to narcotics go through withdrawal and find ways to keep their mind balanced. Addiction is a disease that affects both physical and mental health; an integrative medicine approach can treat both effectively.
For instance, while those fighting addiction may receive antidepressants or other medicines to help fight the neurochemical causes of addiction, they can also learn mindfulness and relaxation techniques that can help them when they feel the urge to use drugs. Cognitive behavioral therapy and other mental health strategies are also vital to addiction recovery.
As the opioid crisis continues to grow, it's vital that medical professionals use any evidence-based tool they can to help patients with pain and addiction. An integrative medicine approach helps professionals offer their patients more help than ever before, providing positive benefits both before and after the use of prescription opioids.
To learn more about the use of integrative medicine and how you can use it in your practice, explore the integrative healthcare courses available at Portland Community College.