Katie is owner and creator of Kerfluffle, a peanut butter swirled with marshmellow fluff. She used SBDC's Getting Your Recipe to Market program to bring her yummy fluff to households around the area.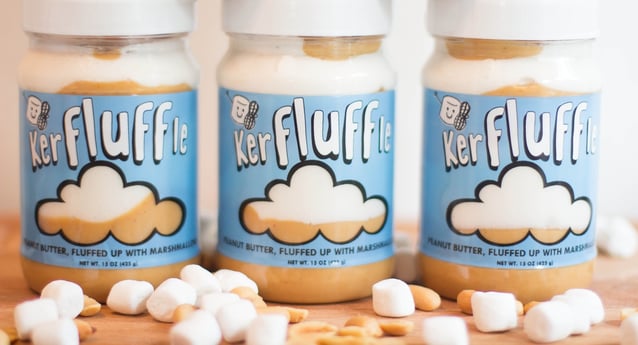 Katie, you're one of our newest graduates and have success already.
Yes. I'm from Kerfluffle, which is peanut butter swirled with marshmallow fluff - it's a fluffernutter in a jar. I have two flavors, one is just peanut butter marshmallow and one has chocolate chips in it, which is my s'mores variety. It was kind of knocking around in my head for about 3 years. I just love peanut butter - I'm an addict. On the East Coast we like to swirl marshmallow fluff into it and it's a sandwich.
Did you envision that this is where you would be? Absolutely not. I am so jealous of a lot of the people that come into the class and maybe they don't have a co-packer lined up right away, but they move to a co-packer very soon after. Some people never even step foot in a kitchen and I would love that because I have a serious burn on my hand right now and was covered in fluff at 3:30 this morning. I'm so fortunate that one of my friends actually owns a bar though and I can use her kitchen space. I come in at 2 in the morning and do my thing from 2 to 6 in the morning and they let me use it for free.
So Katie, you're in your first 6 months of operation yes? What are some of the lessons learned that you have come upon?
By trade, I'm still a project manager at a small shoe company outside of Beaverton. By nature and by profession I'm very detail oriented, and task oriented, and I know how to get things done. So I thought that it would be very easy for me to just develop a project plan. The plan I developed was really helpful, but times 1,000 in the amount of work that was in that project plan, and time and effort and money that had to go into the actual idea. Jarring some peanut butter and selling it was really the tiny little concept, and now it's countless hours and a lot of effort, and people saying 'no'. I think that the class was so great for me because I got to ask all those questions along the way. The advisers are great and the speakers are great that come in. I think one of the really great things about the class also is just to have that connection with fellow food entrepreneurs.
In your 6 months out the gate, you've already reached a place where you've seen courage to pull out from you. So can you just express a little bit about what that feels like, and what you think about when you reach those moments?
Yeah, caffeine, alcohol and friends. I feel like we're up here and we're saying all these bad things, "Ugh, this is so bad." But there are so many amazing things about being a food business owner! I have gotten such amazing feedback. I have strangers that come up and say, "This is the best thing I've ever eaten my entire life!" Can you imagine having that on your Facebook page? That makes your day! Or little kids are just so excited, "Mommy, we have to buy this, "this is so good!" It's awesome - you can't put a price tag on those interactions.
You were mentioning how you were putting in all this money. Is it something that's realistic to think that once you start a new product that you're putting in more money than you ever expecting? Is that something that you should expect?
I am totally comfortable talking about finances because I work in finances a little bit. When I went into the program it was actually top of my mind almost every class I sat through. Because I sat in this class of 12 to 15 entrepreneurs and I just kept asking myself "How are these people funding their food products?" Are they working full time? Are they getting family assistance? Are they getting a small business loan? But we never really talked about it actually in class. I definitely asked the question a lot in class, 'cause I was just curious. But I'm 100% self- funded, so I definitely rely on my full time job to help fund the beast that is Kerfluffle. At first you see a lot of your money just going out the door and not coming back to you. I actually still Google, 'How long does it take 'for start up businesses 'to become profitable?' But I've found that it's so dependent on the product you're selling, and the marketplace, and the stores you have, and so many different variables.
View the full Q&A with Katie and Junea from Brazi Bites below: