Small business owners have avoided making real strides into developing a digital marketing strategy for their retail business because of uncertainty about how to design their website or use social media in a meaningful way.
But, you can't afford to think that way—especially during these challenging times!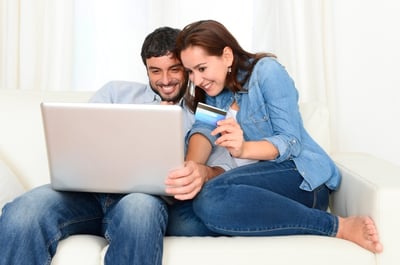 Good business, from marketing to sales and even community interaction, is based on building a relationship with your customers and partners. This can look different for every business, of course, but in this era of Amazon your business needs an online presence to make and strengthen relationships with prospects and customers. Not having an online presence is no longer an option in the 21st century.
What Does "Online Presence" Mean, Exactly?
When you're thinking about the answer to this question, put yourself in your customer's shoes. Where do they spend their time online? What might they need from you, and where will they want to find you across different channels? What kind of content are they going to be looking for?
Having an online presence means more than just having a website, though a website is an absolute must. Think of it like standing on the sales floor, surrounded by returning and potential customers. Are you going to stand against the wall, silent and passive? Technically, you could, but it isn't very good for business.
How you position yourself online is just as important as choosing a physical retail location. You should be easy to discover, find ways to use your site to share information, and utilize social media to listen to your customers. Every aspect of your online presence should be oriented toward being active in accordance to your overall business, marketing, and sales goals.
Your Website — the First Step in Your Digital Marketing Strategy
Your website is an asset and, quite frankly, you'd be remiss not to take advantage of it in your marketing strategy. Site platforms (e.g., WordPress, Squarespace, etc.) have made designing a website easier than ever. These platforms also offer a host of tools and apps to make various functions easier to manage.
Ecommerce
Hybrid shopping has become the new norm in many sectors. People want to be able to try things out in store and then make purchases online.
eCommerce doesn't have to be the end of your brick-and-mortar store. Why? Customer convenience is now partly defined by "order online and pick up in store."
Taking advantage of online shopping is bringing the customer experience to a different level. Adapt how your business engages customers and merge all channels (on some level at least) to best funnel consumers to where you need them most — your bottom line.
Mobile Responsiveness
Mobile has become a huge key to the shopping process. More than 200 million retailers will have invested in mobile this year, which more than likely means that your competition is already online, or is going to be soon. Why the focus on the mobile web? About four in five consumers use their smartphones to make purchases, and furthermore, 56% of consumers did research for products at home from their mobile device.
Then, of course, there's Google's algorithm shift. If you're site isn't mobile friendly, it's down-ranked in search results. It's worth noting that Google also prefers "responsive" designs, as they're easier to index and provide a uniform experience across multiple devices. Not sure if your site is responsive? Check here.
In 2017 online shopping grew 4 times the rate of in-store shopping, and nearly half of it was done on mobile devices.
Mobile search is also the gateway to your store, and is still important for boosting foot traffic. Why? Another one of Google's algorithm updates (Pigeon) puts an emphasis on local search. In many ways, this was a lead into the company's new emphasis on mobile. Considering the number of people utilizing mobile and wearable devices, mobile searches are integrating geographical location data to offer more meaningful results. It means sophisticated, personalized results based on proximity, even to a hyper-specific level. If your website isn't mobile friendly, it isn't going to show up at the top of a search page as being nearby.
Tip: Take advantage of Google My Business. Whether you have a webpage or not, it will index your business and its locations for searches and add you to Google Maps, not to mention offer a host of other benefits.
Information & Promotions
Imagine that a potential customer hasn't been exposed to advertising for your company and isn't quite close enough to wander in. If they do a search for your types of products and services, and click on your website, what are they going to learn about you? The basics ought to include pertinent information about your brick-and-mortar locations (i.e., address, hours, contact information) but should that be it?
Of course not! Your web page is an extension of your sales and marketing, even if you don't offer a way for consumers to purchase through your site. It needs to be engaging and draw that customer to your store.
Even repeat customers will be looking for engaging information on your page. Your site should be home to information about your latest promotions, new products, events, and special information (e.g., holiday hours). What's more, you should have connectivity options, not only so visitors can share information from your site, but so visitors can find other aspects of your business such as your newsletter and, of course, your social media.
Social Media Is Important for Marketing
While the purpose of social media, especially certain forms of social media (e.g., Twitter) was confusing for businesses at first, it is no longer just optional. This serves a few purposes, not least of which is the raw and immediate data it can offer you about the success of your business, its offerings, and your campaigns. Consumers spend their time on the internet mostly on social media, and 60% of that social media time is done through a mobile device.
Retail businesses should also note that social media is also evolving toward social buying. Facebook is already beta testing storefronts, and Domino's, through Twitter, lets you order pizza by emoji. Some stores have even taken the data from social media and used it in creative new ways.
Social Media Platforms for Retail
It's worth taking a moment to discuss the potential that various platforms can offer your business. Some are basic, while others need a more defined sense of purpose. Not every platform will work for every business, and there's always new platforms and innovations just around the corner.
While Twitter and Facebook are the basic go-to options and LinkedIn is literally made for business, you should also consider platforms like Pinterest, Tumblr, Instagram or YouTube. They each offer business specific options with analytics tools and tips, and offer a different aspect of any given customer segment that can expand your reach. They offer different kinds of sponsored content, as well, so it can definitely be an extension of your marketing. They'll give you room to be creative, and, as we'll discuss in a moment, to build your brand.
Engagement & Feedback on Social Media
There is a veritable wealth of information that can be gleaned from social media and the way your customers engage with your business through it. It allows you to learn more about who your customers are, improving your segmentation data for marketing and sales. It improves customer service — when used correctly — and offers a completely different level of interaction that can engender real relationships which not only generate leads, but conversions. To view social media as merely a method for marketing is to undercut your own efforts.
It also hurts your ROI, because you aren't integrating it as a channel of sales or your real marketing goals. Linking social media with customer acquisition and retention, closed revenue, and retargeting offers tangible metrics that are useful business wide. It gives you the opportunity to listen to your customers in a way that is more than merely reading their comments on your business' Facebook page, as well as, opening new doors for native advertising and real-time targeting.
Building Your Brand
The key to building your brand is building a relationship with your customer, and there are few better ways to do that in the 21st century than social media. Of course, it requires approaching your social presence in the right way. Social media gives your business a face and a personality, doing away with the unapproachable, monolithic ideas of business in the past. It also offers unprecedented methods of networking with others, building a position of authority, and establishing your brand as a thought leader in your industry.
As technology and consumers continue to evolve, your online presence becomes unavoidable and more integrated with shoppers' buying process. How your business can benefit from having an online presence should be a little more clear now. It's time to maximize your online presence today.