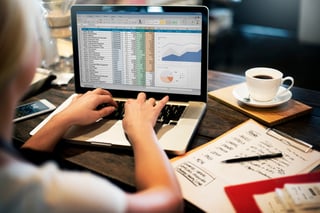 If you have a hand in business, whether it's marketing and communications, purchasing promotional items, organizing events, or any involvement in financials or analytics, then Excel is a must-have business tool. Here are three examples of how to use Excel for business to maximize your efficiency, but there are many ways in which a business owner or user could utilize this multi-functional tool
Contact Organization and Communication
One of the most important aspects of running a business is having a solid list of contacts and customers that you can reach out to with your message. While there are many ways to keep contact lists using notepads, customer relationship management systems or even a program like Microsoft Word, keeping an Excel spreadsheet is an efficient way to organize data and transfer it from one place to another without having to spend a lot of time completely reformatting it or inputting data manually.
Excel is a widely used program for organizing data, and it's easy to import lists into other databases or content management systems and tools if you know the basics of Excel. For instance, if you want to send an email campaign to your contact list, you can use Excel to organize your contacts and label rows with "First Name," "Last Name," "Company," "Email," etc., using a different row for each label. Once all of your contact information is organized, you can import your organized data into an email marketing program such as Constant Contact or MailChimp. They typically require Excel or .CSV files to import contacts into the system, automatically segmenting it by how it was originally organized in Excel (the labeled rows). Not only does this work for email lists, but other online content management systems and marketing tools.
Event Planning
Many people consider Excel an indispensable business tool for managing email lists and/or formulas, but Excel is an efficient tool to assist with event planning. Excel even offers an event planning template that helps keep all of the details of your upcoming event (big or small) in place (You don't have to use the template, but it could be useful for someone who is not experienced). The planner template includes options such as names of guests, RSVP's, their responses, music, decorations, and an itemized budget. It is fully customizable, and it's easy to add or delete any of its features. If anything, it will prompt you to think about all of the details of your event and keep it easily organized and shareable with team members. Outside from the template, Excel offers many features and organization tools to keep you organized and moving through your event planning process.
Budgeting
Excel is probably best known for its budgeting and financial features, which are practically a necessity many business owners. Once you know how to create a few simple formulas, Excel does all of the tough calculations for you, saving time (and frustration with calculations). When you have your numbers placed in cells, then you can simply create a formula and it calculates everything for you. Here is an example of a formula:
SUM (B12:B23)
This formula, for example, calculates the sum of the numbers is in the B column starting from Row 12 to Row 23). No longer do you have to pull out a calculator to add it up manually. Excel automatically does it for you, and the beauty of these formulas is once they are set, they will constantly update with any data changed in the cells they are pulling data from. This is especially useful when managing a complex budget with many moving parts. You can keep a main sheet that tracks the major and overall figures, then organize the document with tabs to itemize smaller areas, while it's all in one document and easily viewable and accessible. Excel is an incredible resource for easily sorting, calculating numbers and it's easy to adjust the formulas, which makes it an effective tool for any business user who might be doing budgeting or any financial analyzing.
Microsoft Excel has been around for over 30 years and is constantly improving and evolving over time to ensure it offers users the most updated and improved features for today's needs. Other companies have imitated Excel, and other Microsoft Office tools such as Word, with similar document and spreadsheet tools, but Excel has set the standard high with exceptional features, especially for the business owner and user.