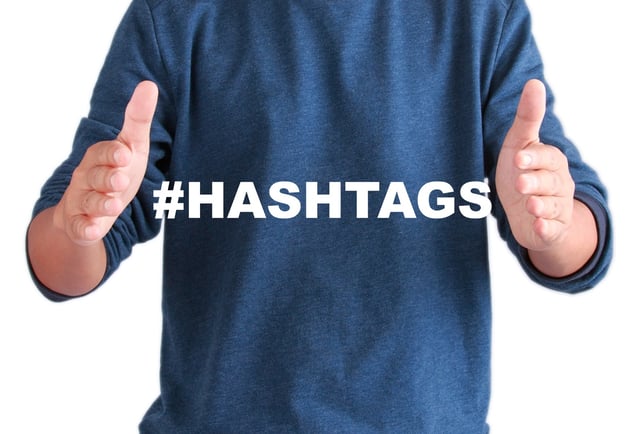 Leveraging social media as a marketing channel has become unavoidable, but they also require business owners and marketers to utilize them in the best way possible. That means much more than ensuring you have the best content and add value with images and video. Hashtags in social media marketing are critical for topic discovery, audience engagement, and much more. In today's post, we'll take a quick look at how to leverage hashtags for business, starting with answering the question, "What are hashtags?"
What Hashtags Are
Unless you avoid social media, you've encountered hashtags, even if you didn't realize it. While they originated in IRC chat, hashtags were eventually adopted by Twitter to track topics in 2009. A hashtag is a word or words following a pound sign (#) in a message on social media. It's important to note that for most platforms, a multi-word tag requires the words to run together, i.e., instead of "#marketing tips" you would type "#marketingtips." Often, punctuation cannot be used, either, so "#marketingwin!" would actually be the hashtag "marketingwin" and the exclamation point would be part of the rest of the message. (The notable exception to this rule is Tumblr, which permits multiple words and any punctuation barring commas, which are used to separate multiple tags.)
Everyday users leverage them to participate in specific social conversations and memes (e.g., #MondayMotivation, #NationalMuttDay), connect themselves to a particular place or event (e.g., #SDCC2017), or otherwise link to the things they love.
How They Work on Each Social Network
While social networks by and large have similar underlying functions — searching for topics, seeing the top topics or the latest topics, and a measure of sorting through the results — the execution varies a little. Twitter and Facebook both allow you to sort whether you want to view people, photos, or view in your results, and both platforms tend to see only a few tags or less per post. However, Twitter has a more in-depth search function, and its tags can also be applied to Twitter Chat. While Twitter is largely public posts including a lot of individuals, Facebook tends to feature private accounts, so most of the search results will be influencers or brands.
Instagram's sorting is much more limited. However, it also helps users search for similar tags (providing greater reach), and encourages lots of tags per post. (About 9 or 10 seems to provide optimal engagement.) Pinterest's hashtag options are even more limited, in that the platform doesn't particularly leverage them, and only the tags featured in the description text (as opposed to, say, the title) are clickable. YouTube has some hashtag functionality; tags can be in either the title or description, and clicking on them will bring up search results for the tag. Other rising channels, like Snapchat, don't offer hashtag functionality at all.
How Businesses Use Hashtags
Businesses can leverage hashtags in much the same way normal users do: to participate in conversations, indicate when they're at events, and link to what they care about (often products or services). It's easiest to see in the entertainment industry; TV and movie titles are often a hashtag used for promotion and for audience reactions, which might come straight from their seat at the theater. However, it's important for brands to remember that context can make or break your social media strategy: if you don't have valuable content, you can add the hashtags for your brand or product all day long, and it won't move the needle on audience engagement in a positive direction.
That means that sometimes a brand's hashtag isn't about the brand itself at all. Take Always' #LikeAGirl campaign that started in 2014. The tag represented the core of the campaign, which was about the value of women and girls in traditionally male positions, like sports. It spoke to corporate values, but it wasn't about Always; it was about its audience. Hashtags can be incredibly powerful when leveraged correctly.
Tips to Use Hashtags in Social Media Marketing
Below we've collected a series of tips to help you use the most pertinent hashtags possible to help garner the best results:
Commit to doing hashtag research.

Hashtags are to social media what keywords are to search engines. Do research to utilize the right tags, properly capitalize on trending tags, and review how top hashtags are put together. Tools to try:

Sprout Social

,

Hashtagify.me

,

RiteTag

Analytics are useful.

Hashtags provide a built in way to track the traction of the attached message as well as the topic. This gives you the opportunity to test and revamp your strategy and ensure that your message is something your audience cares about.

Avoid the ultra-generic when you create tags.

Unless you're tapping a channel like Instagram, where even the most generic tags get a lot of attention and quantity matters, hashtags provide unique commentary or indicate specific interests and conversations. Consider a branded hashtag (e.g., McDonald's #ImLovinIt, which plays off its catch phrase).

Don't be afraid of popular tags.

Social media is all about giving your business a human face. Your audience rarely wants a sales pitch in their social feed, and you can avoid that impression by participating in popular tweet memes, like #tbt (or throwback Thursday, in which people post or re-post older photos). You can give your followers a backstage glimpse at what your company is like.

Double check your spelling.

Typos mean that your tagged post won't end up in the correct hashtag feed. It will probably also get left out of your analytics review, so any traction the attached message did get may not be appropriately attributed. However, this applies to much more than just typos.

Triple check that spelling.

The order of letters could be misread to mean something you did not intend, and you can't depend on capitalization to help. Consider this real life mistake: Media

campaigns for

The Hobbit

in Switzerland used #HobbitCH, because CH is the country code. However, when you look at it with all lower case letters #hobbitch, an accidental expletive becomes clear. You can see a similar mistake with #BlackHatEbook.

Double check why a tag is trending.

Take the

real life example

of the tag #Aurora. It was trending on Twitter after the Colorado shooting, but Argentinian apparel brand Celeb Boutique missed the memo and put out a Tweet that was completely insensitive to the tragedy. Given the national attention to the Aurora tag at the time, that was a major blow for the brand.
Hashtags for business are important tools to help expand the reach of your social content marketing, improve your social listening, and track important conversations. Use the tips we've listed above to help develop a sound strategy for deploying hashtags in social media marketing.