Amy Boggs owns and operates a local cleaning company that is on the cutting edge of innovation. Amy opened Sparkling Places in 2002 in an effort to afford to continue her college education and has turned to cutting edge technology to expand her business to address the needs of customers dealing with the coronavirus pandemic.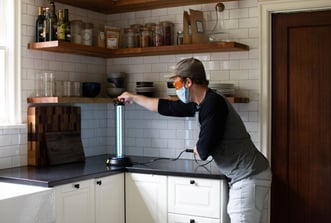 What inspired you to start your business? At 20 years old, I was faced with the reality of not being able to afford to continue going to college, so I began cleaning houses. Once I realized how much I loved the detailed work of cleaning Portland homes, and how much ease and joy I was able to bring into my client's lives as a result of my hard work, I decided to start my house cleaning business. That was back in 2002 and after 18 years we've grown to a staff of 15 "Sparklers." We offer a dynamic and engaging job that allows for professional growth for our highly-motivated Sparklers who want to gain leadership and supervisory skills. Our Sparklers earn a fantastic living wage with health insurance benefits, paid time off and sick leave. We also believe in giving back to our community and choose a local charity or social cause to donate to each month.
Before coming to the SBDC what challenges were you facing in your business? The SBDC helped me overcome the challenges of choosing the correct business entity for my business, creating systems for my business, hiring and training employees, finding my niche in the market, and then ongoing coaching to retain my employees, my customers and my sanity.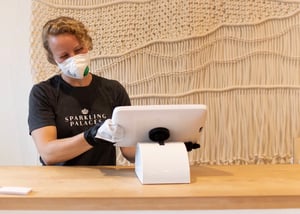 What SBDC services did you receive?
Over 12 years of participating in SBDC programs and coaching/mentorship
Small Business Management 1, 2 &3
Marketing (Entrepreneur Development Series)
Quickbooks Training
Testified on behalf of the SBDC to the Portland City Counsel Ways and Means Committee
How have the services or programs helped you overcome those challenges? Ongoing support from the SBDC has been key in overcoming these challenges. In depth classes like the Small Business Management classes helped me write and refine my business and marketing plans. Having a dedicated SBDC adviser helped me with the finer points of running my business: from how to color-code our cleaning caddies to creating an Organization Chart for the business. All these tools have helped me grow my company every year.
What have you been doing to innovate (pivot) your business through the adverse conditions surrounding the Coronavirus pandemic? We were able to stay open during the pandemic as an Essential Service so we looked around at the options for increased disinfecting. We discovered that using hospital-grade ultraviolet (UV) light was on the cutting-edge so we decided to give it a try. We began purchasing UV disinfecting lamps as a way to offer Deep UV Disinfection that's 99.9% effective in killing COVID-19. We now have an entire part of our business staffed by specialized UV light technicians that allows us to offer this service to businesses and homeowners.
What are your plans moving forward as the state of Oregon prepares to reopen? We're working right now to get the word out about our UV Disinfection Services to businesses in Multnomah county that are in the process of re-opening. UV disinfecting is a great option because it's odorless, eco-friendly, won't cause harm to electronics or wood and can disinfect all surfaces in a room, including the air. We want to help Portland open back up for business!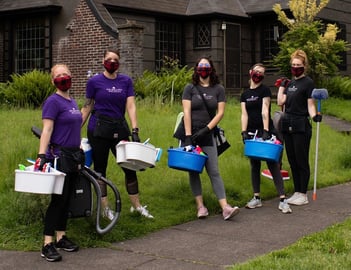 What would you say to other small business owners thinking of working with the SBDC? If you want to increase your revenue, streamline your processes, write or update your business plan, clarify your offerings and create systems that produce a reliable product or service that constantly delights your customers, the SBDC can help you with all those things and more. Most of all, they give entrepreneurs the much needed emotional support on the road to success.
---


Programs and services are provided to the public on a non-discriminatory basis. Language assistance service are available for limited English proficient individuals. Reasonable accommodations for persons with disabilities will be made if requested at least two weeks in advance. Please contact us at 971-722-5080 or sbdc@pcc.edu, to request accommodations. Oregon Small Business Development Centers are funded in part through a cooperative agreement with the U.S. Small Business Administration, and the Oregon Business Development Department.