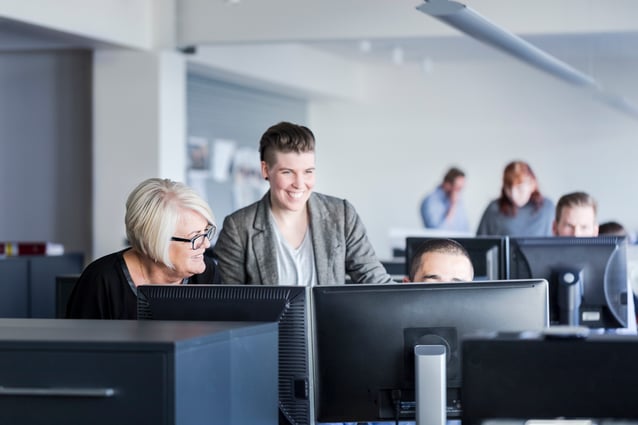 PCC's Continuing Education programming offers professional development workshops in addition to its long term certification programming. This Fall, PCC Professional Development & Training offers 4-8 hour courses in communication, leadership, delegating, resolving conflict, supervision and project management.
Oct. 3 - Powerful Communication Skills
This condensed workshop provides managers with an overview of the impact communication skills have on other people. Managers will explore how improving these skills make it easier to get along at work, in life, and provides an orientation to the same tools front-line staff and supervisors use. Register here.

Oct. 10 - How to Lead Without Power
Change can be difficult. It can be more challenging when charged with implemeting a change without holding a formal position of power. This training was developed to support individual contributors who find themselves supporting colleagues and co-workers on critical work but hold no influence or power as perhaps a manager would. Concrete steps can be taken to make changes more palatable: build relationships, understand reasons for hesitation, and communicate a strong case. In this workshop, participants will identify strategies and techniques to be even more influential and effective in achieving collective goals. Register here.

Oct. 17 - Leadership Skills
You have the power to turn on or turn off the productivity of the people who report to you. This course will give you the skills in communication, coaching, and conflict that you need to be successful. Register here.

Oct. 24 - Delegating
This workshop will explore many facets of delegation. We will examine the delegation process step by step, including when to delegate and to whom, and learn techniques to overcome problems. Register here.

Nov. 14 - Resolving Conflict
This session examines types of conflict and how each can best be handled. Learn how conflict resolution methods lead to useful team building and achieve higher integrity, trust, productivity and satisfaction at work. Register here.

Nov. 7 - Project Management - Fundamentals
Although not intended to take someone from a supervisory or administrative position to that of a project manager, this workshop will familiarize participants with the most commonly used project terms and practices. Register here.

Nov. 7 - Role of the Supervisor
This course guides participants toward a constructive philosophy and approach to supervision that is a foundation for supervisory effectiveness and development. Participants begin to build key skills and practices that ensure success. Register here.

Nov. 21 - Project Management - Intermediate
This workshop is for those who already understand the conceptual phase of a project: setting goals, creating a vision statement and creating the Statement of Work. This will cover the remaining three stages of planning, execution and termination. Register here.