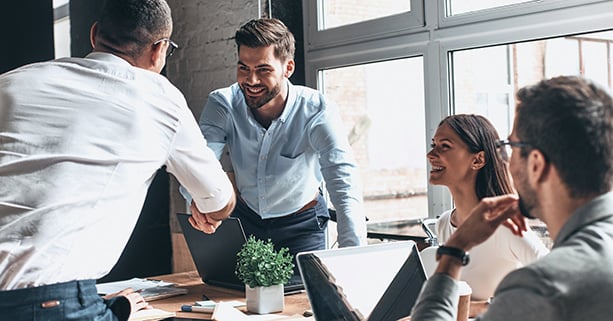 Understanding the power of negotiation is essential for anyone – especially business professionals. Developing key strategies and skills for successful and productive negotiation is key.
What is negotiation?
Negotiation is when two or more people with different goals and needs amicably discuss the issues to come to a mutual solution. You must have negotiation skills in business for both formal and day-to-day interactions. Win-win negotiations can help build better relationships and quality solutions, while helping to avoid any future conflicts or problems. There are various types of negotiation skills, but here are the 7 key skills for successful negotiation:
1. Problem Analysis
Having the ability to analyze a problem to determine the interests and goals of each party is important. You cannot successfully negotiate what you want or need until you understand what the issue really is. Getting granular to dissect the issue helps determine what needs to be negotiated.
2. Effective Communication
The ability to communicate clearly and effectively to the other party during the negotiation can make a huge difference in the way things are resolved. Being able to communicate clearly and effectively ensures there are no misunderstandings on what the issue is and what the resolution will be.
3. Active Listening
Active listening involves the ability to understand body language as well as verbal communication. Knowing how to read someone's body language beyond what is being said will indicate whether they are comfortable with what is being discussed. Even if someone agrees, their body language could be saying something completely different – which should be addressed.
4. Emotional Regulation
The ability to keep emotions "in check" during the negotiation is essential. It does not matter how passionate the topic, being able to regulate your emotions when resolving these issues could help you get what you want and need.
5. Assertiveness
Being assertive can assist in going after what you need and putting your best foot forward while doing it. It doesn't mean being bossy or overly aggressive, but it does come with a certain level of confidence and accountability.
6. Problem Solving
The ability to seek a variety of solutions to problems is one of the most important elements of successful negotiation. There are times when there are two or three elements that must be resolved, and being able to navigate solutions with one or more parties through effective problem solving can save time, emotional stress and money.
7. Decision-Making
The ability to act decisively during a negotiation is also crucial. There will be back-and-forth, but making a final decision that sticks and is fair for all parties involved takes grit and determination. While things may not always be clear-cut, having good decision-making skills helps with the transition.

Portland Community College has a variety of courses that will help leaders develop their communication, negotiation, and conflict resolution skills. Check out some of PCC's essential skills courses to learn more about transforming the way you negotiate.