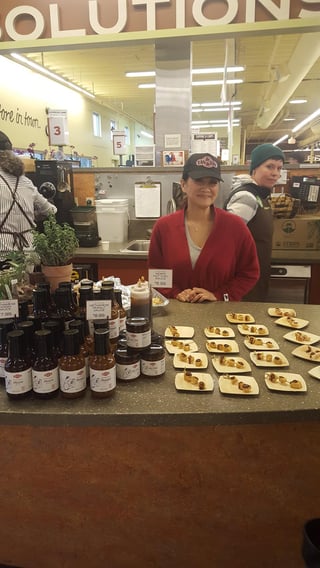 Lisa Tran of Tan Tan Cafe & Delicatessen is a former student and was kind enough to share feedback about her experience in the Getting Your Recipe to Market (GYRM) program. We thought it answered a lot of questions a lot of people might have, so we're posting her responses for you to read as well!
A little about me:
My family owns and operates Tan Tan Cafe & Delicatessen restaurants in Beaverton and Vancouver and I'm a Spring 2016 graduate from GYRM. I currently have three sauces that I developed throughout the class: Mom's Hot Chili Sauce, Vietnamese Hoisin Sauce and Peanut Sauce that just launched and are currently in all 18 New Seasons Markets and coming soon to Market of Choice and Green Zebra Grocery. I've also been invited to be a member of Team Oregon Fancy Foods to showcase my family's sauces at the Winter Fancy Foods Show in San Francisco this upcoming weekend where we'll have the opportunity to meet with buyers nationwide.
Would you mind briefly telling me a little bit about your experience?
GYRM has definitely been a heck of a ride for me. The class is very fast paced because it's basically like cramming 3 years of product development, market research, marketing, networking, etc. into 14 weeks. However, there is a lot of support to help you along the way and the networking you encounter along the way is amazing. I actually stumbled across the class while I was taking a different workshop at PCC and decided to check it out to see what it was all about. I came into class hoping to market just our Mom's Hot Chili Sauce, but ended up developing 3 total shelf stable products.
What was your favorite part of the session?
For me, my favorite part of GYRM has been the support and networking gained from taking this class. Most, if not all, local retailers are familiar with GYRM's stellar reputation and I've noticed that I have been given opportunities such as meeting with buyers that are harder to come by if you can't name drop that you were a student. The support doesn't end when the class is over. The relationships and mentorships gained have been ongoing.
What was the most beneficial (professionally) part of the experience?
Definitely networking. It's definitely more about WHO you know than WHAT you know. The people you meet throughout GYRM will be able to help you navigate this often tricky terrain. Also, Portland is a teeny tiny town and the community really comes together to support each other because the success of one really does mean success for all.
If you look back, would you do it again? Why or why not?
YES!! I'm actually attending a workshop at the Show in SF this weekend that is basically a refresher course of GYRM and alumni are actually encouraged and welcome to come back to any of the classes throughout each term. This is especially helpful because, like I mentioned earlier, there is a lot of information covered and things like COGS [cost of goods sold] and trademarks are really important to grasp.
Where are you with your recipe/project now and are you happy with the results (that you got or didn't get through the program)?
I'm happy with everything so far! As I mentioned above, we are currently in all 18 locations of New Seasons Markets and coming soon to their Mercer Island location as well as SF when it opens. Half of the work is getting your products cut into store shelves and now it's become my main focus to market and sell it!
Any advice you'd give me as someone who's going in as a newbie? What is your hesitation about signing up for this class?
Enroll already! The $2K class fee sounds like a lot initially but the investment is well worth it, I promise. Not only did I save so much time in getting my products ready for retail, but I learned so many new things and met so many people that I would have never imagined meeting. Just come to class prepared and utilize your resources (advisors, etc.) and ask lots of questions!
Anything else you have to add would only be helpful and appreciated, both positive and/or otherwise.
I have 2 year old twins and was in the middle of building a house and moving...oh and running our family's restaurants while I was taking the class. If I can survive it and come out sunny side up on the other side then ANYONE can be a success!