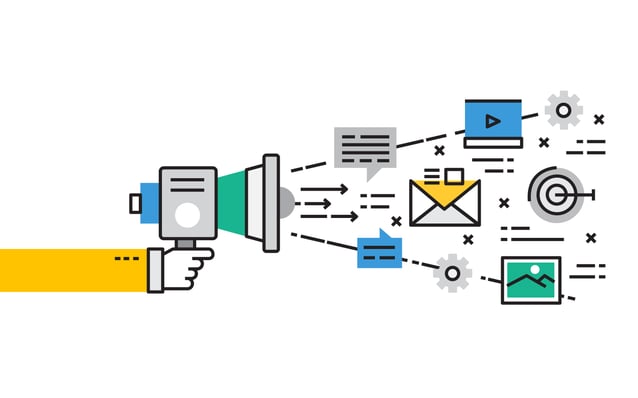 Digital marketing can be a dizzying arena when it comes to the amount of tools, systems and platforms available to businesses. The moment you think you've seen one platform that can literally "do it all," two or three others spring up with more functionality or the same feature set at a cheaper price.
Keeping up with the latest in digital marketing tools might seem like an impossible task, especially for small businesses. How exactly is one to supposed to find the best digital marketing platforms for small businesses?
Thankfully, there is a shortlist of digital marketing platforms that are useful to virtually every small business. Below you'll find a small business cheat sheet for digital marketing platforms, what they are and how best to utilize them.
Paid Social Media Ads
With more than 1.4 billion users and 900 million daily visitors, Facebook is the social media behemoth of the modern era. Businesses can create advertisements to appear in user's news-feeds (and right-column) based on your business goals and audience targeting preferences. You'll then be able to set a budget and track results using Facebook Insights. Facebook ads are also configured to optimize placement, depending on whether the ads are being viewed via desktop or mobile. You'll also gain access to the Power Editor tool, where you can customize each advertisement's brand messaging, images, and calls to action.
Twitter is another major social media player and a great for way to reach a mass audience. Small businesses have a few options when advertising on Twitter. First, you can purchase "promoted tweets" that will appear near the top of users' timelines. You can also choose to promote your account, where Twitter will suggest your account as one that should be followed to certain users based on their interests. Finally, you can create a hashtag unique to your business, and pay to promote it to your target audience as a top trending topic. Twitter allows you to create objective-based campaigns for a variety of business goals such as increasing website traffic, building a social media following, or converting online sales.
Pinterest is a unique kind of social media platform, where users save and "pin" useful and interesting content to various boards based on topic. Users also are exposed to pins based upon topics they follow. This is where small businesses can take advantage of the ability to promote pins about topics that their target audience is likely to engage with. Promoted pins are no different in look and feel than regular pins, and serve primarily to promote engagement, awareness and web traffic for your business.
Instagram, a photo-sharing social media platform, is gaining traction as an advertising option for small businesses. This is in large part due to Instagram influencers, popular accounts that people follow and whose tastes and opinions are trusted. Being owned by Facebook, small businesses can create Instagram campaigns in the Power Editor tool and easily cross-promote those ads on Facebook. Beyond the basics, businesses can utilize tools such as Like to Know It, integrating ecommerce with Instagram engagement. If a user "likes" an Instagram photo of your product, you can then automate a process where the user is emailed more product information along with an easy way to purchase.
Google Adwords, also referred to as Google pay-per-click (PPC) is one of the most efficient and effective advertising options that businesses of any size should consider in their marketing toolkit. These ads appear to users who are actively searching for a product or solution that your business can directly solve, making many of these leads "pre-qualified." The result is an extremely high ad spend ROI for businesses, which is why the Adwords system has basically made Google what it is today. In terms of digital marketing ROI, Adwords has delivered a ton of value to its customers over the years. Under the PPC model, businesses will bid on certain relevant keywords they want to be associated with their ads, write the ad copy then let Adwords do the rest of the work.
For the uninitiated, retargeting technology and platforms allow you to advertise to consumers based on their previous interactions and behaviors online. If someone visits your website and searches certain products without buying, for example, you can "retarget" them at a later date with ads for that product or similar ones. If someone is browsing a certain size and color of shoes on your website, but doesn't buy, platforms like Meteora will allow you to set up retargeting ads so that next time that person is visiting shoe-related websites they will be reminded of the shoes from your website. AdRoll, one of the most widely used retargeting platforms, also allows for social media retargeting on Twitter and Facebook. To get started, all you need to do is sign up with a service and simply place a snippet of JavaScript code on your website that will allow for visitor tracking and retargeting.
Moz's keyword explorer is a new tool designed to help research and analyze specific keywords relevant to your business or industry. By simply typing in a keyword, let's say "auto repair" for example, Keyword Explorer will then generate statistics about that keyword such as how difficult it is to rank against competitors with that keyword and potential click-through opportunities if you choose that keyword. You'll also receive suggestions for similar keywords, possibly "luxury auto repair" or "local auto repair" to help you choose keywords more wisely. It will also generate a Search Engine Results Page (SERP) analysis, showing which webpages are most popular when searching that keyword. Based on these tools (and more), you'll be able to select keywords that have given you the highest chance at appearing in relevant search results to your target consumers. Moz actually allows for two free keyword searches per-day without even having an account, five free with a community account and unlimited with a paid Pro account.
Email marketing has become a staple for businesses of all sizes. Tools like Mailchimp and Constant Contact offer free and low-cost versions that small businesses can take advantage of. These email marketing platforms allow you to create a database of emails, design email templates, execute email campaigns and analyze results. They also allow for some additional functionality such as marketing automation and nurture workflows that are included in upgraded versions. If you already have a database of email subscribers, you can easily upload these contacts via CSV file, design an email and execute a campaign in a relatively short amount of time. Any bounces and unsubscribes will also be tracked, so you don't have to worry about marketing to people who aren't interested and coming across as "spam."
If you're unfamiliar with some or most of these tools, the best thing you can do is set aside some time to watch tutorials and play around with free trial versions. Start by executing a few small emails campaigns with Mailchimp, for example, and see how it goes. Most of the tools on this list are best experienced firsthand in order to see what value they might bring to your small business. Good luck and happy marketing!