SBDC Client, Vesna Ader, dreamed of starting her own business. After several years of planning and many months confounded by a global pandemic, she was able to finally open her dream business in September 2021. The Ruff House is an indoor dog park where dog owners can enjoy a drink with both their two-legged and four-legged best friends! They also offer doggy daycare, boarding, training, and grooming. This is her story.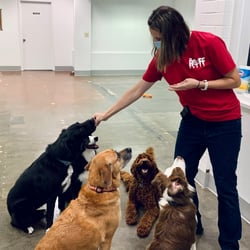 Vesna, what inspired you to start The Ruff House?
After 17 years as a physician assistant, I decided to follow my passion and start working with dogs. After years of rainy, dreary days at the dog park, I imagined a better option. A place where my dog can socialize and have fun but where I can also enjoy myself. No longer having to choose between going out after work with friends or spending time with my dog was my inspiration. I wanted to start a place where dog lovers can meet each other. Building community is important to me and has become even more important since the pandemic began. What better way to build community than with our dogs, thus, The Ruff House!
Right now, I am building relationships with dogs and their owners. And very soon, I will help these dog owners build relationships amongst themselves. I love all of the dogs and the different personalities I get to spent time with at The Ruff House.
What types of services did you receive from the PCC SBDC?
I have taken multiple courses through SBDC over a couple of years. These include Business Builders, Restaurant Business Builders, and a Quickbooks Bootcamp. The classes and 1 to 1 advising helped me understand all of the different pieces involved in starting a business. I was able to better define my business, understand the finances, and even create a marketing plan.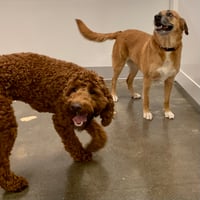 How has the COVID-19 pandemic impacted your business?
I was very close to signing a lease at the beginning of 2020, but it fell through due to some occupancy issues with the city. Once the pandemic started, I knew it would be a while before I could open my official brick-and-mortar space. So during the pandemic I decided to go to (online) school to become a dog trainer. It was a great decision! Understanding dogs and dog behavior will make my business much better. And I started building up a client base much sooner than I would have otherwise by doing some dog training.
What are your plans moving forward as the state of Oregon continues the process of reopening?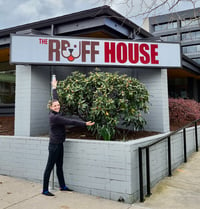 It has been a rollercoaster of course. Initially I was excited that the pandemic was improving just as my business was getting ready to open. Unfortunately, there was another wave in the summer which was concerning. I am hoping things improve as I open. As fall and winter set in, more people will be looking for an alternative to the wet, cold outdoor dog parks. We are also installing a UV filtration system into our HVAC to decrease the spread of airborne particles.
What would you say to other small business owners thinking of working with the SBDC?
I strongly recommend any small business owner work with the SBDC. They have been such a wonderful resource. The 1 to 1 time the advisors spend with you is invaluable. I have learned so much from the classes and the advisors.
---


Programs and services are provided to the public on a non-discriminatory basis. Language assistance service are available for limited English proficient individuals. Reasonable accommodations for persons with disabilities will be made if requested at least two weeks in advance. Please contact us at 971-722-5080 or sbdc@pcc.edu, to request accommodations. Oregon Small Business Development Centers are funded in part through a cooperative agreement with the U.S. Small Business Administration, and the Oregon Business Development Department.