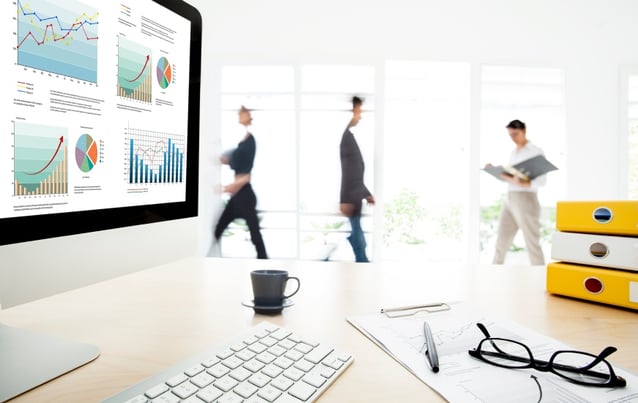 Microsoft Excel is an essential program for office managers, marketers, and anyone who deals with finances. This program's ability to quickly and efficiently organize data is a huge time saver. Today, almost 80% of intermediately-skilled positions post digital skills in the job requirements, knowing Microsoft Office tricks and shortcuts are a great way to boost your skills and value for employers.
Although Excel has a ton of features that can calculate, alphabetize, and make sorting stats a lot easier, in this post we will cover some lesser-known Excel tricks that are sure to impress your boss.
1. Recommended Charts
This is one of the basic Excel tricks everyone needs to know. If you are in a position to present data to top-level management, you want to make sure that the data is easy for them to consume and that they understand your point(s). With a few simple clicks, you can use Excel to turn your data into attractive charts. The six most common Excel charts used are pie graphs, scatter, area, bar, line, and column charts, but newer versions of Excel have a few more options. Available in versions 2013 and newer, the Recommended Charts tool takes your data and gives you a preview of what chart(s) work best.
When you have your data ready, simply click on the Insert tab and about halfway across the page you'll find the Recommended Charts button.
When you click on the button, chart options pop up based on the type of information the program detects in your fields. Within seconds choose a chart and customize the data and design.
This tool is handy to create beautiful charts that portray exactly what you want them to, quickly.


2. Rearrange Data From a Row to a Column (Or Vice Versa)
Your boss doesn't like the data in a column and wants to see it in a row instead? Not a problem; this is an easy fix that will take less than two minutes to change. Don't even think about retyping all of that data — simply copy the area that you want to rearrange, put your cursor on another blank area, and go to Home > Paste > Transpose. Just remember to highlight your data to get this function to work.
This quick trick is available in most versions of Excel. For more one or two-click features and Excel keyboard shortcuts, check out this additional CLIMB Professional Development and Training article.
3. Conditional Formatting
This Microsoft mind-reader Excel trick is another one that saves loads of time, allowing you to get this spreadsheet done and focus on other important tasks. The Conditional Formatting feature is available in all versions of Excel and lets you apply certain formulas to an array of cells so that you don't have to format each one individually.
This Excel tool is great for easily pointing out trends or points of interest that your boss wants to see without having to wade through all the data yourself. For instance, in this example we chose a gradient fill data bar to show longer bars for higher values.
Show off your digital literacy by utilizing these Excel tricks to impress your boss, making your work day much more productive and giving you a reputation in the office as an Excel guru. To gain more in-depth knowledge that can help your career, check out the courses offered at CLIMB Professional Development and Training.