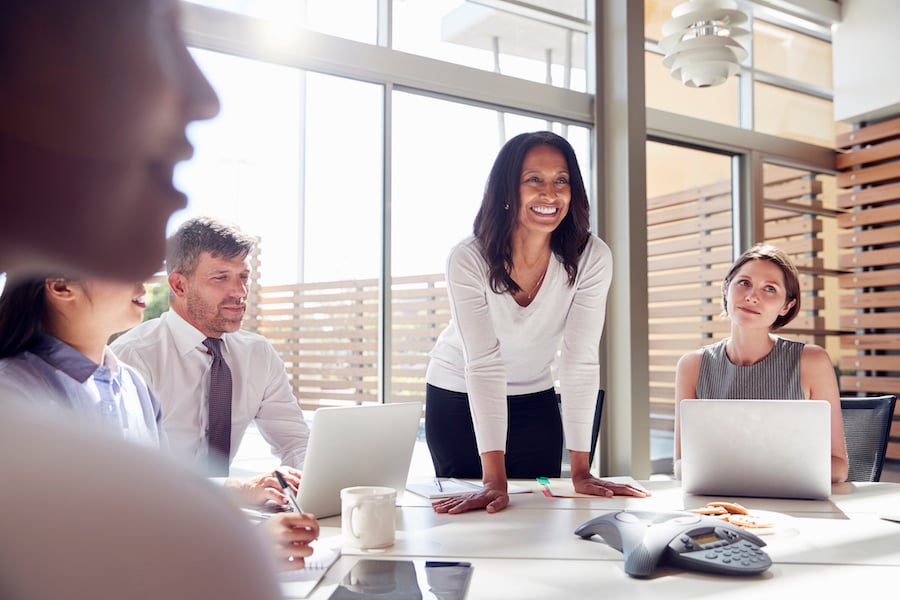 The success of any business or organization is cultivated from the top, down. Competent and skillful leadership is critical to boosting productivity, maximizing efficiency, and achieving business goals – whether an organization consists of two or 200 people. Successful and effective leadership directly impacts employee engagement and performance, which is essential for businesses to grow and thrive.
Much has been written over the past few centuries about what it takes to be a good leader, from service, humility, and honesty to talent, tenacity, and a clear vision. Certainly, different situations require specific attributes or skills. Every leader, however, can benefit significantly and become an even more valuable asset to their business by observing and practicing these 3 C's of successful leadership, which is also a course offered by PCC Professional Development and Training:
1. Communication
Very few trades are built on solitude and seclusion. Business is inevitably about making connections, creating and offering a product or service someone else needs or wants, and ensuring they receive it. All of those business essentials rely on effective communication. Whether it's written or verbal, one-on-one or departmental, some form of communication is necessary for sharing a vision, solving problems, explaining organizational goals, articulating instructions, or making decisions.
According to the Australian College of Professionals, listening and being open to both suggestions and feedback are key aspects of communication. "Leaders should aim to establish a steady flow of communication between themselves and their team members and ensure they are aware of any concerns," the organization states.
Through effective communication, leaders can address their employees' questions and concerns, give them direction, and help them feel confident they are proficiently carrying out their responsibilities.
2. Coaching
Coaching is another one of the keys to successful leadership. Respectable and effective leaders must possess the ability to train and educate their employees in various areas and tasks, as needed. A leader who simply tells a person what to do, but is unable to guide them, offer direction, and provide constructive feedback is not going to garner respect from their employees.
Beyond practical training, leaders also must have the ability to motivate and inspire others. According to Jeremy Marchant, the author of "Emotional Intelligence at Work," while it is impossible to make another person do something, "a successful leader will be able to do something, or be something, which, when it is experienced by the other person, enables them to motivate themselves."
That sort of empowerment can be offered through a variety of avenues: one-on-one meetings, long-term mentorship, or departmental and company-wide workshops. Employees also feel supported and motivated when they are given opportunities to attend events, conferences, or classes to receive the specialized training they need to progress in their profession. By making these opportunities accessible to employees, leaders demonstrate how important their team is to the company, galvanizing employees to be loyal, dedicated, and productive.
3. Conflict
While companies are often working toward a single goal – increasing revenue by serving clients – they are trying to accomplish their objective with several team members who each possess their own experiences, backgrounds, ideas, and concerns. In such a situation, conflict is inevitable. When it does rear its head, employees will turn to their leaders to help mediate and resolve the conflict.
Because conflict is inescapable – and its unwise to try avoiding it – leaders must be prepared to confront it head-on with empathy and objectivity. According to an article on Forbes.com, effective leaders should clearly define acceptable behavior and expectations to create a framework for employees to follow. This provides a context for conflict resolution so leaders can execute it uniformly and according to standardized policies and procedures. Additionally, leaders should "seek out areas of potential conflict and proactively intervening in a just and decisive fashion," Forbes states.
If left unaddressed, conflict has the potential to make employees lose focus on their professional tasks, while also hurting teamwork and morale. Employees want to feel confident they can go to work and do just that – work. They also must be able to rely on their leadership to pursue the best and most fair course of action when conflict arises.
Becoming a better leader
Good leaders aren't born. They're built. Effective leadership is a quality that must be cultivated and practiced in order for it to become more robust and impactful. Even business owners, managers or supervisors who have led other people for many years can benefit from picking up new tips or tools to have in their arsenal. PCC Professional Development and Training offers Leadership Skills for Supervisors: The 3 C's – a vigorous course that offers in-depth, hands-on training in communication, coaching and conflict – to help leaders, old and new, propel their employees and entire company to success.