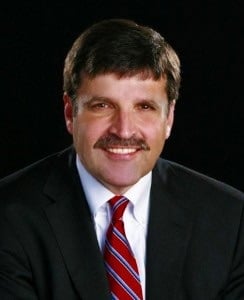 Before Mark Van Heuvel began teaching at PCC he had a career as a manager working with iconic regional and national food and beverage industry brands, including Kraft. He's been an instructor with PCC for more than twenty years and currently leads several Project Management courses with PCC's Professional Development and Training program. We recently connected with Mark to learn about trends in project management.
What do you like about working at PCC?
The team at PCC's Professional Development and Training program is focused and clear on the mission of delivering an outstanding learning experience for each student. It is rewarding being part of a team to support that mission, and to teach practical skills that can be immediately applied in the workplace.
How did you become an expert in project management?
I started in management in the food industry at Kraft Food Corporation and later became Director of Operations for a multi-site beverage company. We had all kinds of projects going on and I had the responsibility to evaluate project selection and oversee budget preparation as well as execution of those projects. I looked to every resource I could find, from meeting with individuals working on aerospace projects, to construction projects to learn best practices in managing projects. I volunteered for speaking engagements at international technology conferences, project world conferences and hosted the local chapter meetings of the Project Management Institute. I also met with the series editor of a major book publisher on project management and emphasized the need for a simple step-by-step system for managing any project.
What sources of information do you use to stay current?
I look to professional organizations such as the Project Management Institute and others to see how technology is making an impact on project management skills. I also enjoy working with professionals in the field who are applying their experience - whether it be a software project, a medical related project, website project or even construction projects.
What trends will have the biggest impact on the discipline/industry during the next year?
I see technology trends making an even bigger impact on communication among team members. This also addresses the customer need, who values constant communication on every step of the project cycle.
What is it about the subject that compels you to remain interested?
Contemporary management has become management by projects - where detailed project requirements must be understood and communicated effectively. This is part and parcel to deliver a winning project. Almost everyone is involved in either leading a project or supporting a project in both their professional and personal life. The same skill set can be used for both.
How does someone get into this field?
The majority of team members are working on some part of a project. It is important to be equipped with the basic skills of working on a project - whatever your role is. If you want to become more focused on project management we can help you to obtain certifications, program awards or other career-related experiences.
How does project management improve competitiveness in the workplace?
Authority and responsibility for key outcomes that impact critical customer satisfaction metrics is part of the project management job description. Customers have many choices today - projects that deliver outstanding results for an "over the top" customer experience can lead to major competitive advantages. Other measurable side benefits can result in an increase in market share, or in the non-profit sector, more efficient use of resources to serve customers.
What materials will students take away from the project management fundamentals and intermediate classes that could immediately be applied in their job?
The ability to manage a project from start to finish is important for any student. The base technical skills for managing a project from the project charter, project scope, requirements scheduling and reporting are modeled and practiced by each student. In addition, non-technical soft skills such as "on boarding " a new team member or presenting one phase of a project at a team meeting and many other soft skills are modeled and practiced. Common mistakes for each step of the project cycle are discussed.
What associated skills would help someone advance in this field?
Innovation skills are important; change means progress and along with change comes either improvements in processes or systems. The ability to manage change is important. Other complementary and supporting skills such as effective time management and problem solving skills are important to delivering successful projects.
Share something interesting that you have learned from your students.
The student's goal of constantly emphasizing new innovative approaches to deliver a better service or product makes the entire teaching experience exciting. You couple project skills with that kind of passion and enthusiasm; you cannot help but have an enjoyed experience in the classroom.