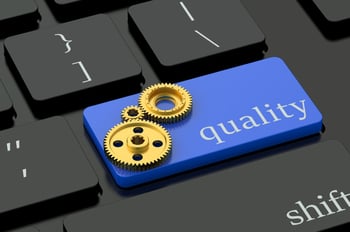 Now that it's a new year, you may be looking for new ways to improve your organization. For businesses focused on efficiency and overall quality of their products and services, a quality certification may be the answer you're looking for.
Below we'll take a look at three different quality certifications and the benefits for obtaining them.
What Is Quality?
Quality is important in every aspect of business from how employees interact with customers to ensuring the process for distributing products is efficient. For business owners, understanding where quality matters most is one way to ensure the right action is taken to maximize profit and improve the customer experience. As a business owner or member of the management team, taking a proactive approach to quality assurance can also boost morale and give workers a sense of pride in what they do and the company they work for.
Types of Quality Certificates
Depending on the field and type of profession you are pursuing, there are a variety of quality certifications available to assist you in advancing your career. We'll discuss three more popular certifications below:
LEAN: This approach aims to eliminate any action or piece of equipment that does not add value to the process with the ultimate goal of limiting waste associated with overproduction, inventory, waiting times, and costs of quality. There are three different levels of certification — bronze, silver, and gold — that demonstrate one's knowledge of the LEAN program.

Six Sigma: This is a process that strives for near perfection in quality whether in reference to manufacturing or a type of service. Six Sigma certifications confirm an individual's capability with certain competencies but doesn't make them an expert in all areas of quality.

Quality: While quality assurance and quality control are often interchanged, they are distinctly different. Quality assurance is the planning and implementation of systems to ensure the quality of a product or service will meet standards. Quality control is the observation of these systems as a way to monitor their efficiency.
Depending on the type of business you operate, the certification you work toward will be different. For those who operate in a customer based industry will likely find more value in a quality certification rather than a lean certification.
Benefits of Quality Certificates
There are many benefits to having quality certification:
Strengthen Leadership: When management and employees know there are systems in place to monitor quality and that changes will be made and action taken if goals are not met

Improve Efficiencies: Those who have training will be able to recognize where inefficiencies are occurring and work toward making improvements.

Mitigate Business Risk: By carefully monitoring internal and external factors surrounding your business, you can be more prepared to prevent actions that may have a negative impact on how your business

Exceed Customer Requirements: Customers are an integral part of any business and their needs must be met in order for them to return. Exceeding their requirements will keep them coming back.
If you're looking to make a difference in your organization or develop your professional career, consider a quality certification relevant to your industry.