Angela and David Anderson spent years helping Oregon's wine industry grow by providing Web and consulting services for restaurants and wineries. In 2019 they stepped onto the front line of the industry and opened Syndicate Wine Bar in downtown Beaverton. Syndicate is "a community wine bar, bringing in all facet of wine culture," they wrote. "A place where all people could sip, sample, buy bottles and snack on appetizers."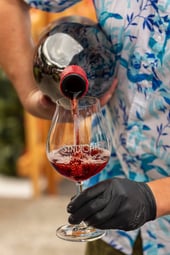 When COVID hit and the state declared a mandatory restaurant shutdown in March 2020 they had to pivot. Fast. They shuttered their kitchen, turned the bar into a bottle shop, and put all ordering online with curbside pick-up or local delivery.
When the state allowed restaurants to re-open with outdoor dining in June 2020, Syndicate launched a community fundraising campaign to help build their outdoor space. In July the City of Beaverton granted them the use of three parking spaces and they upgraded the outdoor dining area with wine cabanas and outdoor seating. Although Syndicate was no longer serving food, the Andersons found their license would allow patrons to bring in food from adjacent restaurants and food carts, creating a symbiotic relationship with their neighbors.
As winter 2020 grew near, Syndicate pivoted again. The Andersons used a community fundraising campaign and their own funds to create the Barrel Room, a tented space where they could serve and sell through the rainy months. Syndicate Wine Bar is now one of the most sought after-outdoor dining spaces in Beaverton.
Syndicate's rapid growth created the need for more indoor space. The Andersons turned to the Oregon SBDC's Capital Access Team (CAT) for help to find funding for the expansion. Banks had turned them down, saying restaurants and bars were just too risky. Angela said, "The SBDC believed in us when others wouldn't."
Their SBDC Capital Access Team (CAT Team) advisor connected the Andersons with Business Oregon's Entrepreneurial Development Loan Fund, which ultimately provided a loan for the expansion.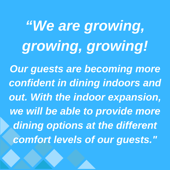 "With the inconsistency in Oregon weather, indoor dining allows us to navigate the natural curves in business resulting from a model that is 100% outdoor dining. This (loan) program from Business Oregon gave us a chance to explore other options inside and out of the elements," David Anderson said.
The indoor expansion is scheduled to be completed in January 2022.
"We are growing, growing, growing. Our guests are becoming more confident in dining indoors and out. With the indoor expansion, we will be able to provide more dining options at the different comfort levels of our guests." Anderson said.
His advice to business owners seeking assistance from the Capital Access Team? "Be prepared with a current business plan, projections, and a clear understanding of what and how you will use any resources. The more you have prepared, the easier the process will be and the more SBDC can understand your needs."
----------------------------------------------------
The Oregon SBDC Capital Access Team engages business clients through specialty advising on accessing capital to foster economic growth and resilience.
For more information visit: https://oregonsbdccat.org/