Inspired by her grandmother Dorothy, Robyn Galbos believes that food has role as a medium beyond basic nourishment. Food can tell a story of a culture, a time, a place, an experience, and even an ethos. While starting Robyn's Craft Bakehouse, making and selling whole grain crackers and crisps, Robyn attended the Getting Your Recipe to Market program at the PCC Small Business Development Center. This is her story.

When did you first become interested in food? In my 20s I worked for an online city guide where my job was to write restaurant profiles. To be clear, my company wasn't trying to liken me and my fellow restaurant writers across the country to New York Times restaurant critics. Our role was to describe restaurants, the ambiance, the menu, and sometimes the point of view of the restaurant owner or chef. It was, until now, the best job I've ever had. I started in Salt Lake City, then moved to Chicago where my company paid me to eat out at restaurants two or three times a week. My husband Jeff and I explored Chicago's culturally rich neighborhoods through food, and had a blast eating our way through Eastern European, Mexican, South American, Middle Eastern, European, and Southern cuisine. It was incredible. During this time I dove into reading about and researching food, and understanding its role as a medium beyond basic nourishment (and in privileged societies, entertainment). I believe that food can tell a story of a culture, time, place, personal experience, and ethos.
Who were the people in your life that encouraged your interest in food? When I was a kid, my dad encouraged me to have a pretty adventurous palate, but it was really my grandmother Dorothy who inspired my love for baking. She lived her whole life on a farm in rural southwest Missouri and baked daily: breads and especially pies. My heritage on her side of the family is Polish, so she also introduced me to a lot of foods from that culture that have influenced me a great deal.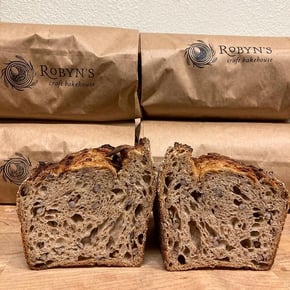 How did you become interested in your craft baking? I, like many home bakers, was really inspired by what's being called the "grain revolution" of the past 30 years, though it's really just the latest chapter in the centuries-old ebb and flow of how we think of grains in the world. I love the process of bread baking and experimenting with different grains to create flavor. It's a cross between science and alchemy. When I was laid off from a job in 2015, I saw it as an opportunity to try something new. I decided to take a break from online writing and editing and try baking. Because I was in the middle of my life and didn't have professional baking experience, I went to the San Francisco Baking Institute to learn artisan bread production in the context of a commercial bakery. When I came home to Portland, I got a job as a bread baker at a local company known for using grains grown in the Pacific Northwest. There I was, living my best life, sleep deprived and covered in flour, when I had an epiphany: "people are demanding better bread so why shouldn't we expect the same from the humble cracker?" So I started experimenting at home using whole grains grown in Oregon and Washington, to develop rustic, sourdough crackers.
How did you learn about the Getting Your Recipe to Market (GYRM) program? Once I had the idea for a whole-grain cracker business, the only step I knew how to take was to start telling people in hopes it would keep me accountable. After I cautiously floated the idea to my family, it was pure serendipity that the first two people I told my idea to were successful Portland food entrepreneurs and graduates of the Getting Your Recipe to Market program -- Heidi Nestler of Wanpaku Natto and Chris Bailey of Pozole to the People. I set up a coffee date with Heidi and she told me about the program. I was blown away that such a rich resource would even exist. I applied that week and Jeff and I attended GYRM during the summer 2019 session.
What business challenge inspired you to explore the Getting Your Recipe to Market program? We knew nothing -- absolutely nothing -- about starting a company, let alone a food-based business. As Jeff likes to say, "We had no idea the depths of how much we didn't know." We knew we wanted to start a small farmers-market based business and that was about it. So every single business challenge inspired us. We were complete newbies.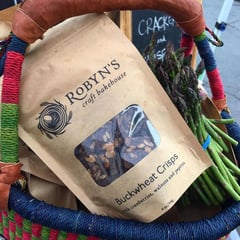 What were some of the key learnings you took away from the program? Oh, where to start? The step-by-step format of the program was so helpful to us as beginners. It was all laid out in front of us: Step 1: open a bank account. Step 2: apply for a business license. What kind of licensing do we need? How much will it cost for us to make this product? How much should we sell it for? What about food safety? Packaging and shelf life? Branding? Working farmers markets? Pros and cons of going retail? On and on. We literally built our business as we were taking the course and were so grateful to have all the resources from the Getting Your Recipe to Market staff, guest speakers, and students.
The program helped us make the decision that our concept was doable. There were many points in the process where we could have decided that it wasn't viable if our circumstances or product had been different. I think that insight in itself is worth the price of the class. Think of how much time and money you'd spend researching and getting a business off the ground, only to find that the numbers really don't work in your favor, after you've invested so much.
What were good resources and connections the program brought to you? We learned so much from the guest speakers and made incredible connections in the Pacific Northwest food community. For us, having access to inspectors from the Oregon Department of Agriculture and the scientists at the Food Innovation Center were invaluable as we continue to develop and evolve our business and products.
Very specifically, we were grateful to be able to contract with the speaker who came to discuss packaging and branding. Ranee Ruble-Dotts from Paper Moon Creative designed our logo and advised on packaging. We get compliments all the time.
What were your initial business goals and what are some of your current goals? Our initial goal was to launch a farmers-market-based business; to start small, get to personally know the people in our community, and tell the story behind our product. Looking back on our first year in business, that's exactly what we've done. We are currently operating under Oregon's cottage food laws (AKA "the bread bill"), and we enjoy the flexibility of operating out of our home kitchen. For our second year, our business goals have not changed much, except we would like to pursue having our home kitchen licensed. We love working farmers markets and really have no intention right now of expanding into retail in a big way. But it would be nice to have the option of selling in retail settings on a small scale.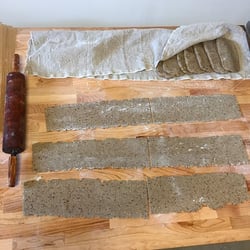 What surprised you most about the Getting Your Recipe to Market program? We actually started a business. We really did it! Before we took this program, I would not have been sure that was a foregone conclusion.
Joking aside, the amount of practical resources the course offers really did surprise me. From the one-on-one coaching to lists of practical resources, the support was incredibly helpful every step of the way. And that the program culminated with us being able to pitch our product to local grocery buyers was truly a course-altering experience. That, I think, was the biggest surprise. What a rich and rewarding experience it was.
Though our business was always intended to be small, it was very cool getting insight into everything it takes to get a product to retail shelves. And had that been our path I feel like GYRM would have equipped us to do that. The intricacies of the retail food business are truly mind blowing, though.
Can you describe your journey as a Food Entrepreneur from the start of your idea to your current business model. It started with an idea to start a community, subscription-based bread share in my neighborhood. I knew nothing about how to execute it, so I took deliberate baby steps, every day for a few years, to make my idea into reality. In my case, that meant going to school to learn bread baking on commercial equipment, and then spending a couple of years working early-morning shifts at local bakeries. While I was there, I had the idea to turn bread into crackers, and my food entrepreneur journey really began. I knew I wanted to start small, connect with my community over food, and hopefully tell the story of the grains that are grown by farmers in this region. Being a farmers-market business was always my main plan, and though people ask us all the time if our crackers are available in stores, I'm quite content with our decision to keep Robyn's Craft Bakehouse small and intimate. I can't tell you how much I love talking face-to-face with my customers every week. It is one of the most rewarding experiences I can imagine.
- - - - - - - - - - - - - - - - - - - - - - - -
Looking for more information about the Getting Your Recipe to Market program? CLICK HERE
---


Programs and services are provided to the public on a non-discriminatory basis. Language assistance service are available for limited English proficient individuals. Reasonable accommodations for persons with disabilities will be made if requested at least two weeks in advance. Please contact us at 971-722-5080 or sbdc@pcc.edu, to request accommodations. Oregon Small Business Development Centers are funded in part through a cooperative agreement with the U.S. Small Business Administration, and the Oregon Business Development Department.