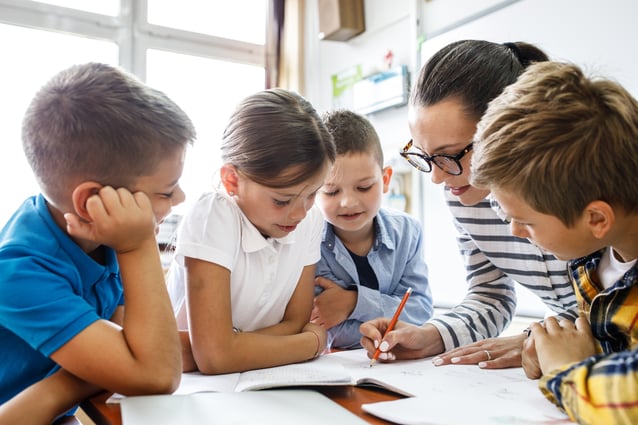 Teachers have been improving how they differentiate students' abilities for many decades. Most teachers now recognize that different students have different strengths and benefit from different approaches and perspectives on learning. Teachers take professional development coursework to continue learning how other educators implement differentiation in their classrooms, helping more students have positive outcomes from the schooling process.
Let's look at what equitable grading is and what it can contribute to efforts to improve equity and inclusion in the classroom.
What Is Equitable Grading?
Equitable grading is a redesigned grading policy that aims to provide grades based on understanding concepts over time rather than resulting from tests. It stems from the idea that other grading systems can unfairly penalize people by not accounting for how individual students learn. Examples of how equitable grading can change past grading strategies include:
Making grading policies less subjective within a school or a subject, creating a grading system that works for all students rather than penalizing students who end up with "strict" teachers and rewarding those who have lenient teachers.

Developing clear criteria for both tasks used in learning, formative assessments, and assignments that show a complex and interconnected knowledge of a whole unit, summative assessments.

Rubric-based grading helps students understand exactly where they are in their learning.

Removing grading of things like "participation," which tend to be evaluated subjectively and can be biased, even unconsciously.

Creating learning systems that take away some of the penalties for learning at a different speed than others and instilling processes to get full credit after mastering a subject rather than being seen as delayed or late.
Many other strategies work toward equitable grading, including grading written work without names associated so that no beliefs about the students' other work or behavior in the class affect grading. These strategies share a few common goals:
Undo unconscious (or even conscious) biases against students from different races, ethnicity, socioeconomic backgrounds, or any other demographic factor that could bias a teacher's perception of the student's ability to learn.

Acknowledge that there's more value in knowing that a student has eventually mastered a topic than in knowing only which students learned it in the initial quantity of time.

Make learning objectives clear so students can take multiple paths to achieve their goals, depending on their backgrounds and learning methods.

Show future evaluators, whether college admissions professionals or workforce hiring managers, what a student has learned.
Making Grades Mean Knowledge
It's much harder to understand what an A, B, or C grade means when you don't have consistent, equitable grading in a school and broader communities. Equitable grading is a long-term project and set of strategies that, when successful, can help everyone understand the different levels of mastery in different topic areas for college and the workforce. While high grades mean something even with traditional grading methods, they mean even more to colleges and employers when it consistently shows what students know.
There is also a decent amount of bias in educators and general society. Most of the time, bias is entirely unconscious but can still show up in interactions with students, particularly in a job as demanding, multi-tasking oriented, and dynamic as teaching. For instance, teachers may subtly treat students identified as "having great potential" differently than other students not given this distinction. It turns out that teaching a given child as if they have great intellectual potential fosters excellent potential in them, even if the title of "having great potential" is randomly assigned!
It's not a negative that teachers use the information given to them to attempt to help children grow and learn - it's a natural way that people use information. But when new research shows specific grading methods disadvantage students, even if they are capable of knowledge mastery, it's valuable to develop strategies to grade differently and reflect students' achievements.
Taking Professional Development Courses Expands Our Educational Minds
Professional development courses are such a powerful way to access the current thinking among educators - no one likes to feel alone in their approach to the students. With a community around you at Portland Community College, you can explore equitable grading techniques and find areas where a new approach would significantly benefit you and your students.
Our affordable and flexible coursework uplifts K-12 educators who have worked hard to get to where they are and pour so much effort into Portland's student population. Learn more and find a course that fits your needs today!