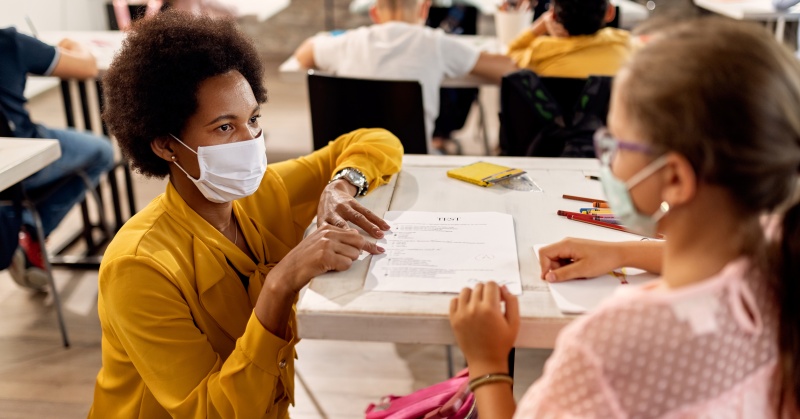 An investment in professional development can improve your ability as an instructor and lead to new career trajectories. Plus, many institutions are requiring that instructors take CEU classes. But wouldn't you like to do these classes remotely, and at your own speed? Choosing to invest in yourself through continuing education has a positive impact on your whole community as a result and PCC makes it easy. Here are some professional development opportunities for educational professionals - but we encourage you to explore all options.
The Value of Teacher Professional Development
Learning new skills as a teacher has an amazing trickle-down effect. Every time a teacher receives new useful information about their careers, they employ those skills in ways that benefit their students. Students who receive better educations can go on to benefit the broader society, so every bit of additional training we can get into the hands of teachers has an impact on the Portland, Oregon community as a whole.
Not every teacher chooses to stay in the exact same niche within teaching. If you've taught in a preschool environment, for instance, but want to transition to a home-based business where you offer in-home daycare, you can use professional development to bridge your current skill set and prepare for your next area of work. One of the reasons that teachers believe in the benefits of professional development is that they recognize that knowledge of other aspects of child development can impact their job right now in a positive way.
Finally, professional development for teachers can help keep the job fresh and exciting. After a few years of teaching, you may feel like you've plateaued but may be longing for new strategies or ways to enhance your classroom environment. Professional development for teachers helps educators incorporate new techniques alongside their best and well-tested professional experience. Students grow from the combination of an experienced and well-trained teacher.
3 Options Available for Professional Development
1. Coursework and Certifications
Portland Community College's Remote Career Training courses are a great example of ways you can expand your horizons as a teacher through continued coursework and certifications. For instance, in a Child Development Associate Training course, you can prepare yourself or renew your knowledge of the core elements of child development as you consider which activities work best for which age groups of children. While many current teachers have learned elements of these courses at one time or another, a refresher or the opportunity to get recognition for CDA certification can be a real benefit as you expand your knowledge.
2. Shadowing Fellow Teachers
If you haven't considered this opportunity in the past, you might benefit from watching how an experienced teacher runs their classroom. Many times, it is hard to notice the habits we've gotten into as teachers until you witness another way of handling other situations. If you want new strategies for making learning fun, keeping a classroom well-managed, or bonding with students, shadowing another teacher can help you progress.
3. Mentoring and Observation In-Classroom
In the opposite direction, mentoring with observations can give you pointers as well as encouragement. When an experienced teacher mentors you, they can watch what you do in your classroom and then sit down and discuss the outcomes. How did it all seem to go to you, and what would that teacher suggest that you modify? You can be much more specific in your requests for feedback when working with a teacher who is actually seeing how your classroom operates.
Taking the Next Step: How Professional Development Furthers Your Career
Remember that teaching and childcare work are both fields that are slated to continue growing here in the Portland, Oregon area, and around the country. The demand for high-quality learning experiences for children will never be seen as fulfilled. The more marketable you make yourself with professional development courses, shadowing, and mentoring, the better you will be able to select jobs in the Portland area that both meet your career goals and offer you the opportunity to impact young lives for the better.
Using Remote Career Training coursework from Portland Community College, you can learn the latest concepts in education and apply them to the teaching context. Schools in our area are always innovating, and getting new information about tech tools or pedagogical strategies will help you stay on the front edge of teaching in Portland.