November is Native American Heritage Month and a great opportunity to celebrate Native American small business owners. According to data from the US Census Bureau, there are approximately 40,000 employer and 315,000 nonemployer Native-owned businesses nationwide that generate roughly $50 billion in revenue each year.
Whether you're a business owner or an entrepreneur planning to start a business, government agencies and other organizations can support you. These programs provide training and technical assistance. They also offer resources that can help put Native American small business owners on the path to prosperity.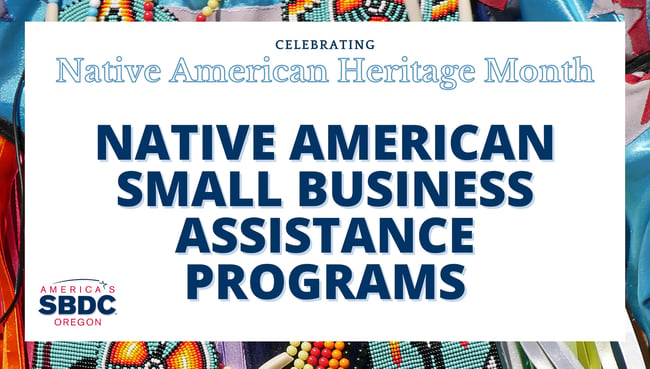 Oregon SBDC No-Cost Business Advising
The Oregon Small Business Development Center (SBDC) Network provides advising, training, specialized services, and resources at our 20 Centers across the state. Our services are available to anyone who owns or operates a business or plans to start one.
If you're a Native American business owner, we encourage you to take advantage of our resources, including no-cost, confidential advising. Our experienced advisers can assist you with writing a business plan, analyzing cash flow, marketing, hiring, protecting intellectual property, and more.
PCC SBDC business advisers have a thorough understanding of how to start and operate a business in Oregon and can provide help at any stage you're in. To receive no-cost advising, you'll need to fill out an online request form.
U.S. Small Business Association
The federal government provides opportunities for Native American small business owners, such as contracting, business development, and other programs designed to help them compete more effectively.
SBA's Office of Native American Affairs (ONAA) provides full access to business growth and expansion tools for Native-owned businesses. ONAA offers free technical assistance for many business types, engages in tribal consultations, and produces promotional materials.
Indigenous peoples can access ONAA's local assistance tool to locate nearby offices and resources. While there, you can learn about SBA's 8(a) Business Development Program, which helps businesses owned by socially and economically disadvantaged people. Small businesses owned by Alaska Native corporations, Community Development Corporations, tribes, and Native Hawaiian organizations can participate.
When 8(a) program participants are certified, they gain access to U.S. government contracting opportunities and receive federal contracting preferences, training, and technical assistance.
Additional resources for Native-owned businesses can be found on the SBA's website.
ONABEN
ONABEN is a national 501(c)(3) organization created by four Oregon tribes in 1991. It provides training, curriculum, and organizational capacity-building to promote entrepreneurship among Native and Indigenous communities.
ONABEN's Indianpreneurship® program has courses designed to educate entrepreneurs on the challenges, experiences, and opportunities in the various stages of business development.
U.S. Department of the Interior Indian Affairs
Indian Affairs offers training and funding to help tribes and tribal members start their own businesses. This includes funding feasibility studies to test business ideas, building legal infrastructure to secure investment, and taking advantage of procurement opportunities.
The Starting a Business page on the Indian Affairs website provides valuable information on grants. It also covers topics like "How to Finance a Tribal Business," "Choosing a Tribal Business Structure," "How to Avoid Getting Scammed," and more.
Indian Loan Guarantee and Insurance Program
Through the Indian Loan Guarantee and Insurance Program (ILGP), the Division of Capital Investment helps American Indian and Alaska Native tribes and individuals get small business financing. Business owners may use these loans may for operating capital, purchasing equipment, acquisition and refinancing, building construction, lines of credit, or other business needs.
The loan program comes with reasonable interest rates and helps borrowers overcome the hurdles in some conventional loans. ILGP also has financial support from the federal government, reducing the risk to lenders.
To qualify for an ILGP loan, you must be:
an enrolled member of a federally recognized American Indian/Alaska Native tribe or group;

a federally recognized AI/AN group; or

a corporation, LLC, or other business entity with at least 51% ownership by federally recognized AI/AN individuals.
Additional ILGP borrower requirements include having at least 20% equity in the financed project. The project must also benefit the economy of a reservation or tribal service area.
Oregon Native American Chamber
The Oregon Native American Chamber (ONAC) is Oregon's only organization focusing solely on assisting Oregon-based Native businesses. It provides education and training, including economic development programs, services, and resources for starting and growing a business. It also facilitates networking to increase business opportunities and offers one-on-one advising.
Additionally, ONAC has a Technical Assistance Program to help Native Americans grow their businesses. These services include website design, email marketing, digital graphic design, print production, video production, and strategy consultation. From helping businesses compete for government contracts to mentoring entrepreneurs, ONAC offers valuable resources to support the success of Oregon's Indigenous communities.