Bruce works on the OSBDC Network Capital Access Team and teaches segments on lending for every program. With a wide variety of background in a broad swath of industries (from journalism, to energy efficiency companies), Bruce brings insight, knowledge, and experience to Oregon businesses looking for capital to grow.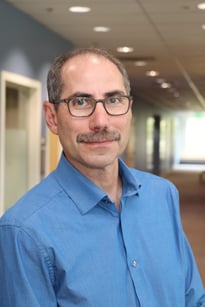 Bruce, what drives your work with the OSBDCN Capital Access Team?
I enjoy helping people realize their business dreams and, in doing so, to create a fulfilling livelihood for themselves (and in some cases their employees.) I love helping people build and serve the community through their businesses.
What is your real-world experience? I spent some 16 years as a radio, print and digital journalist, including 9 years as a business reporter and editor. Business journalism gave me a chance to study a vast array of businesses, how they work, why they succeed and why they fail. I've also worked with both start-up and mature energy efficiency companies, and even ran a school in Alaska teaching people how build their own homes. I did a stint as a free-lance foreign correspondent in Indonesia. And I ran business development for NPR's Digital Media team in Washington DC, helping to bring a flagship radio organization into the digital era. On the academic side, I earned an MBA from Columbia Business School.
That's quite a variety! You are a real "Renaissance Man!" With that background, what is your favorite part about being an Advisor? I love working with clients, understanding their business goals and figuring how to get funding to achieve those goals. I enjoy helping clients build financial literacy and helping them through the often difficult and complicated process of getting funding.
Tell us about a time that you were most proud in your role as an advisor. I am most proud when I can step into a client's business, or go to their web site, and know that I helped them secure the funding to open the doors, expand the business or get their product on the shelf.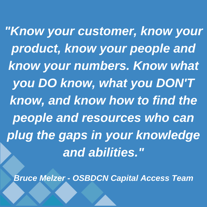 What kind of transformation do you see in your clients during your time working with them? Clients gain confidence and focus. Starting and running a business is a giant juggling act and the SBDC courses help students identify which of the balls in the air they need to focus on, and in what order.
What skills are needed for someone to achieve success in small business? Financial literacy is key. You don't need to be an accountant or bookkeeper, but you do need to understand the key numbers and metrics that drive your business, how to control them and use that information to make smart business decisions.
Know your customer, know your product, know your people and know your numbers. Know what you DO know, what you DON'T know, and know how to find the people and resources who can plug the gaps in your knowledge and abilities.
What do you think clients struggle with most? Most clients know they need some sort of funding and don't know where they'll find it.
How do you help them with this? My portion of the courses helps students see that there are dozens of ways to fund a business. The key is to understand your goal and business needs and try to find the right funding source to accomplish that goal. Then I invite them to work with the Capital Access Team to pull together a funding packet and get the financing they need.
If you could give one piece of advice to all your future clients, what would it be? Do the work. Money will not drop into your lap. Funding a business is a lengthy and complicated process, and if you are looking for funds other than your own, you will need to do a lot of work to get it.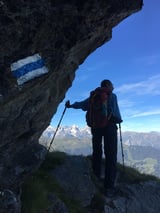 To keep myself knowledgeable and up to date on trends and industry standards in order to deliver the best quality of education, I attend Webinars from companies, business organizations or agencies. I also do quite a bit of networking with lenders.
What do you do for fun? I love to hike, take photographs and travel when I can. This photo is from the hike across the Alps on the Haute Route from Chamonix to Zermatt. The three stripes on the rock above my head is the trail marker for the Haute Route. It's a magnificent hike!