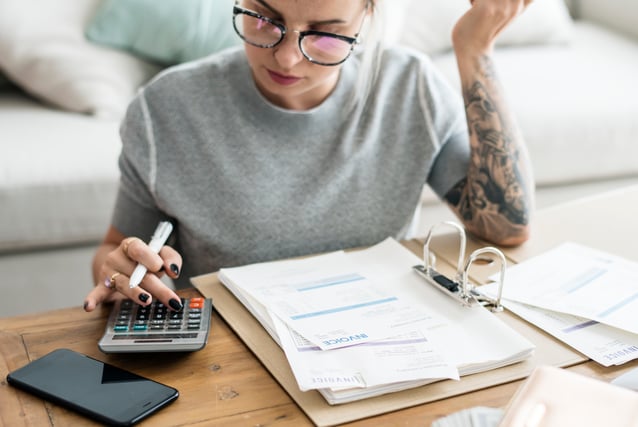 Professional bookkeeping is an excellent field for those who have a strong attention to detail and are willing to learn modern accounting software. Forty-one percent or more of professional bookkeepers work with a high school diploma or equivalent, not with advanced degrees or other certifications. This career is in easy access with strong earning potential, so receiving a professional bookkeeping certification is a fantastic way to stand out in a crowded field.
Bookkeepers' Average Starting Salary
Career bookkeepers have a median salary listed at $41,230 per year, according to the Bureau of Labor Statistics. The profession has a high potential for rate increases as you gain experience and knowledge of your accounting duties. On salaried positions, this works out to a little over $19 an hour. Freelance bookkeepers can sometimes take on more business overhead and make more, especially those who freelance as a side business. Over time, there are also opportunities to raise rates with experience, or find stability as an in-house bookkeeper.
Making a Career as a Bookkeeper
Bookkeeping has evolved beyond just allocating physical money. Now, career bookkeepers:
Manage payments going into and out of a company
Review payments their company receives
Check all figures are in order
Create an accurate, up-to-the-minute log of the business's financial health
Bookkeepers also track important information for tax filing and comply with financial reporting requirements based on industry. They still handle cash to either deposit or withdraw it from the bank.
Bookkeepers must often be well-versed in accounting software. That allows them to operate efficiently while creating and updating financial records with the latest information from the business.
Soft skills are incredibly valuable as a career bookkeeper. You won't necessarily gain these traits from pursuing a professional bookkeeping certification. Attention to detail is a must, as well as a propensity for order and organization. Integrity is a must: After all, breaking an employer's trust will make them uncomfortable to give anyone intimate access to their finances.
Bookkeepers also have to adapt when non-ideal circumstances arise. You must move past any frustration with individual contributors not following accounting guidelines. Instead, show a collaborative attitude to work together and comply with the needed procedures.
What's Needed to Become a Bookkeeper
Bookkeeping jobs are often specific to the workplace, so many bookkeepers have a high school diploma and learn key skills on the job. Bringing accounting knowledge to the job will help applicants stand out from their peers. Only 33% of career bookkeepers have post-secondary or a bachelor's degree related to bookkeeping. Portland Community College offers a variety of non-credit courses on mastering QuickBooks, the most popular accounting software. However, learning the program on one's own is difficult, so having working knowledge of it beforehand is ideal for new employees.
Let's say your employer is a small business owner who realized they needed a bookkeeper to help out once they started using it. Understanding the software allows you to survey their books more efficiently. You'll be better suited to notice errors or mistyped items in the business records. Quickly adding value to the workplace immediately and impressing your new employer. That gives you an advantage over candidates who time to grow accustomed to a new program.
Coursework for Your Bright Bookkeeping Future
Education helps you stand out as a bookkeeping job candidate. It also pushes your existing bookkeeping career forward. PCC's non-credit courses specialize in flexible, affordable coursework that is attuned to the job market. They also better prepare you to get a professional bookkeeping certification from one of the field's professional organizations.
Are you ready to push your bookkeeping career forward? Visit PCC's website today and get started with our many remote training courses.