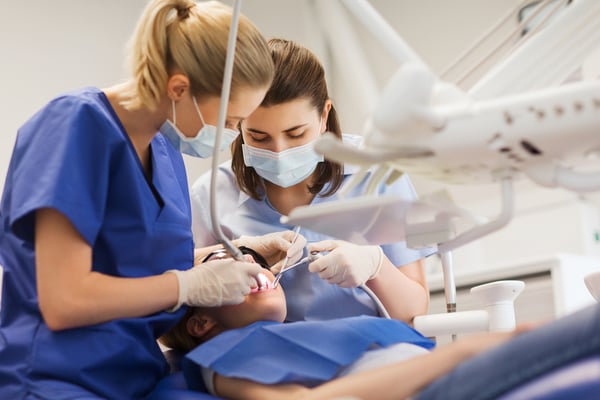 Portland's population is constantly expanding and with it, there is a steady rise in the need for excellent dental care in our community. While any given practice may have one or a few dentists, each practice has excellent paying jobs like Dental Hygienists or Dental Assistants that require less extensive training periods than going through a full dental program.
Dental hygienists and dental assistants spend time with patients, clean teeth, and either assist or perform various tasks to promote long-term oral health. You'll also find the industry pays well, especially for the stability that it provides. Dental assistants make about $20 an hour on average, while their field is growing at a rate of 7%. At the same time, full-time dental hygienists are also in high demand in Portland and can make over $75,000 a year on average.
Portland Community College provides opportunities to launch your dental assistant career or add certifications and endorsements to your licensure as a dental health specialist. The coursework directly prepares you for the Oregon Board of Dentistry Licensure requirements, which means you'll be learning the specific curriculum to gain or expand your licensure. Additional endorsements or training through PCC can help you begin a new career, gain ground at your current practice, or appeal to employers when you hit the Portland job market.
What are Dental Health Specialists?
Dental hygiene is a career within the broader scope of dental health specialists, where workers become familiar with common oral diseases and signs of inadequate oral hygiene. During a patient's visit, they may examine the mouth for stains and remove plaque build-up, identify needs for sealants or fluoride for tooth protection, take x-rays, document treatment plans, and educate patients on how to improve or maintain oral health. They work closely with dentists, sharing their findings to help dentists efficiently bring theirs to various potential oral diseases or conditions like cavities.
Dental assistants also play roles as dental health specialists, focusing on carefully preparing and monitoring equipment during dental procedures. Because dentists require various sterile instruments, dental assistants work to keep everything clean and orderly so that dental specialists can complete procedures promptly. They also maintain suction hoses in cases where an area of the mouth must be kept dry for a procedure. Their training also makes them adept at keeping records, scheduling appointments, and working with billing and payment data with patients. They may also work on lab tasks, making this a varied and dynamic job.
How To Apply For Dental Hygiene Licensure In Oregon Or Dental Assistant Certification
Dental assistants don't have an Oregon Board of Dentistry licensure but usually take a course like those at PCC to become nationally certified through the Certified Dental Assistant exam from the Dental Assisting National Board. Dental hygienists begin with licensure for their work but may choose to obtain further Oregon Board of Dentistry permits for expanded practice or restorative functions endorsement later on.
In all cases, there will be application fees and exams they must pass before completing the license or certification. Pay attention to how long the certification lasts. You may need to renew your licensure or stay current through completing a certain amount of restorative procedures during the years after getting the endorsement.
How PCC Coursework Helps With Careers in Dentistry
Coursework at PCC is so much more than just coursework in dental health. Live online classes make the program easy to fit into your daily life, while solid instructors make learning the material more accessible through their strong teaching skills. PCC has a dental clinic that allows for hands-on practice and skills training. Furthermore, their externships allow dental health students to get real-life skills in local, highly regarded dental offices around the Portland area. Becoming a dental assistant in Portland, in particular, is easier if you already have a positive first impression of the individuals you work with during the externship program.
The coursework content is vital because it attunes your work to the certification and licensure requirements in dentistry fields in Oregon. PCC has created courses that are particularly useful for anyone trying to become a dental health specialist in Portland. While the school itself does not administer exams, the coursework is designed to completely prepare you for the questions and practices you need for the exam.
The dentistry field is growing, both in general and right here in Portland. It's a great time to retrain or train for your first career, and doing so takes less time than you might think. Ready to explore the dental health education courses at PCC coming up soon? Check out our course catalog today.
---


Programs and services are provided to the public on a non-discriminatory basis. Language assistance service are available for limited English proficient individuals. Reasonable accommodations for persons with disabilities will be made if requested at least two weeks in advance. Please contact us at 971-722-5080 or sbdc@pcc.edu, to request accommodations. Oregon Small Business Development Centers are funded in part through a cooperative agreement with the U.S. Small Business Administration, and the Oregon Business Development Department.