This month we interviewed Jeff Stell with Business Oregon who, after 26 years working at the Oregon Department of Human Services, decided to try something new. He enrolled at Portland State University in the Master of Public Administration program and simultaneously took a new position at Business Oregon as the Business Projects Incentives Coordinator where his job was to implement incentive programs that would strengthen the development of businesses, communities, and economies in Oregon. With that shift Jeff says he "encountered three career changing opportunities" that helped him discover that a great amount of import/export activity happening across the state, and exporting wasn't getting the attention it needed at the state and local levels.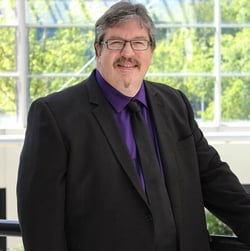 PCC SBDC - Hi Jeff, thank you for joining us today. You mentioned "three career changing opportunities" that you had when you started your Masters of Public Administration program at Portland State University and moved to Business Oregon. What were they?
Jeff - Well, first you need to know that I speak fluent Russian. I started studying Russian when I was a kid at Mt Tabor Middle School and continued through college where I went on an exchange student program to Khabarovsk -- Portland's sister city in the Soviet Union. Yes, THE Soviet Union. I'm that old. When I started my grad program at PSU the three opportunities that helped turn me on to learning more about economic development and exporting were –
I set up a personal economic study tour of Kazakhstan and met with several government officials who shared some of their insights with me.

While in the MPA program the class went on an international study tour of Vietnam to see what they are doing to foster economic development.

Finally, while on the Vietnam trip I stopped in Tokyo for a few days to meet with my Business Oregon colleague Tom DiCorcia. Tom is the Business Oregon liaison in Toyko. Tom took me to a trade show in Tokyo and showed me some of the interesting things being done there.
PCC SBDC – Sounds both interesting and fun! What did you learn?
Jeff – I learned that there is a huge, huge, huge amount of opportunity for exporting and that there are also a number of challenges that come with those opportunities! Did you know that 95% of the world's buying population lives OUTSIDE the United States? On top of that, 5 billion people will enter the middle class worldwide by the year 2030. 5 billion potential customers for Oregon products! There is obviously a tremendous opportunity in those numbers, but there are also some tricky challenges that come along with them as well.
The thesis of my capstone project is that when you add opportunity to challenges such as these, there is need for government intervention and assistance. We already knew that there was a lot of assistance coming from the federal government for exporting with State Trade Expansion Program (STEP) grants and the EXIM Bank (etc.), but there was NOT a lot going on at the state level. Some states have good programs, but not all of them do. So, in my capstone project I recommended several program opportunities that states can offer. These recommendations came from both business owners AND government officials.
PCC SBDC – How does that translate to your work at Business Oregon?
Jeff -- My current job as Small Business Officer has me doing a lot of work helping businesses connect with resources that are already out there such as OMEP (Oregon Manufacturing Extension Partnership) or Pacific NW Defense Coalition. I am in a unique position to advocate for exporting both with businesses and within the office of Business Oregon, as well as with our partners. One of the biggest challenges I often see (aside from the legal stuff) is that most countries in the world have histories and norms that pre-date the history and norms of us here in the United States. Having an appreciation and understanding of some of those norms will open many doors to exporters. Americans who go to another country and can speak even a little bit of the language get treated very differently than those who cannot.
Of course, the question that always hits my brain first when talking to a company that wants to grow is, "can this product or service be exported?" The answer is almost always "yes!" That's where my CGBP certification comes in.
PCC SBDC – CGBP is the Certified Global Business Professional credential offered by NASBITE International. The Oregon SBDC Network Global Trade Center offers the training program to help people like yourself study, sit for and pass the exam.
Jeff – YES! I took the CGBP exam prep program in Feb 2021 and passed the test in the summer of 2021. The CGBP study course taught by Jim Foley is a Masters degree in a box!
PCC SBDC – And what did the CGBP exam prep program teach you?
Jeff - The CGBP gave me knowledge to better help businesses export safely and successfully. For instance, when I was in Kazakhstan, I met with a gentleman who worked for the Kazakhstan government. I wondered why we should encourage exporting to Kazakhstan – a country the geographic size of the western US but with only 18 million people. I asked, "Why should an Oregon business export to Kazakhstan?" He said, "From Kazakhstan we have agreements with companies that allow us to export to countries that you in the US can't export to." That didn't sound right, and in the CGBP training I learned why. According to US laws you have to be very careful with something like that. In fact, in most cases you can't do it, it's illegal to ship to one country in order to ship to another country that we can't ship directly to from the United States! If a small business did that they could get into very bad trouble! That's why they need someone like me (someone with a CGBP credential) to advise them of exporting pitfalls like that one.
Another challenge to exporting is figuring out if a company can actually make money in the transaction due to shipping expenses, currency exchange rates, tariffs and other things. One of the critical questions a company needs ask itself is, "IF I can export and still make the margins work, then the next question is WHERE?"
PCC SBDC – And you can help them figure that out? How do you know what things to look at to determine whether you are looking at a good country to export to or not?
Jeff -- That's where the tools we gained from the CGBP exam come in. We not only learned specific details (laws, financing, and such) but we also learned about some great resources we can use to get answers such as globalEdge at the Michigan State University. There are dozens of things you need to balance in order to make an informed decision about exporting.
The CGBP exam also taught me that you need to know when you are in over your head, and in the CGBP program we learned what resources we could refer people to when that happens. For instance, I'm not an expert on 3rd party logistics. Neither am I a lawyer who can examine and give counsel on contracts in Taiwan. When a business asks me about the things in which I don't have the expertise, I have learned that I need to help them find someone who does. The CGBP Exam prep course gave us a list of agencies and organizations that we can forward to business owners to keep them out of hot water and help them make tough decisions.
PCC SBDC – It sounds like the CGBP Exam prep program and credential have been good for you.
Jeff – Yes. Obtaining the CGBP credential has enriched my experience as a Small Business Officer at Business Oregon. One of my top priorities in this role is to help businesses answer the question: how can we be more profitable? There are many dimensions for a business to evaluate in answering that question, but one of the possible avenues to increased sales and revenue is exporting. Studying for the CGBP exam helped me to see more clearly not only the exporting opportunities for small Oregon businesses, but also how to help businesses overcome the challenges of navigating the global marketplace.