With over 35 years of professional banking experience under his belt, Harlan Barcus began his work with the PCC Small Business Develop Center and Oregon Small Business Development Center Network Capital Access Team in October 2019.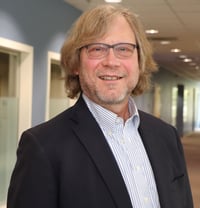 Harlan, Welcome to the PCC Small Business Development Center and the Oregon Capital Access Team (CAT Team). What intrigues you about this work? It is fun and rewarding! Relationships are key to a happy and successful life, and helping others grow and achieve their goals is essential to a sound society and economy.
35 years is a long stretch. What is your "real world" experience in the banking industry?
Well, as you said, I am a 35 year banking veteran which includes:
- I started with the FDIC as a bank examiner where I fell in love with commercial banking.
- I moved to US Bank in 1990 and served in a variety of credit administration and executive
capacities.
- In 1997 I left US Bank and started my own software and consulting business helping
university financial aid departments make financial aid decisions.
- In 1999 I became Chief Credit Officer for a community bank in Portland, American Pacific
Bank.
- In 2003 I had the privilege of becoming one of the founders of Capital Pacific Bank in
Portland. I served as Executive Vice President (EVP) & Chief Credit Officer until 2015.
- In 2015 Capital Pacific was acquired by Pacific Continental Bank, where I served as EVP and
Chief Lending Officer until my retirement in 2016.
What is your favorite part about advising small businesses? Getting to see all the cool ways people have figured out how to make a living!
Tell us about a time that you were most proud in your role as a banker working with small businesses. As a banker, I am very proud of all of the clients that I helped thrive, grow, and succeed. Seeing their success, the employees they could hire, the products and services they could offer, the contribution to the community and economy are all very rewarding.

What kind of transformation do you expect to see in your clients/students during your work with them? While new to the SBDC and CAT Team, I have been a faculty member of the FDIC National Training Center, and the Western Banking School. I have also developed and taught numerous courses for the Receivables Management Association (RM) and trade associations. The reward is always seeing the light go on in a student's face – seeing that moment of clarity is awesome!
In your experience, what skills are needed in order for someone to achieve success in small business? Passion, focus, perseverance, determination, skill/knowledge, insight, self-awareness, and the ability to ask for help.
If you could give one piece of advice to all your future clients, what would it be?
Don't let fear of the future or uncertainty hold you back. Diligently prepare yourself, so that
when opportunity presents itself, you can take advantage of it.
What do you do for fun?
Pretty much everything! We love to travel, both internationally and motor-homing across North America. And anything outdoors -- hiking, gardening, photography, snowshoeing -- is irresistible. I also enjoy woodworking and home improvement projects. Finally, but not least, enjoying friends and family.