Hannah Kullberg began her work with the PCC Small Business Develop Center in March of 2019. She is an advisor in the Getting Your Recipe to Market (GYRM) Program. This is her story.
What is your real world (or international) experience?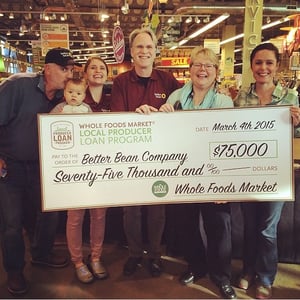 I co-founded Better Bean Company with my dad. My dad took the GYRM (Getting Your Recipe to Market) program while I was still in college and I joined him in the business as soon as I moved back to Portland. It was a whole family affair. We completed the program & won the prize in 2009. From there we got on the shelves at New Seasons started selling in farmers markets. Our product was fresh, ready to eat beans -- a category disruptor to canned beans. Over the course of nine (9) years we built the business from farmers market and local sales to national distribution. About two years ago we sold our company to Hain Celestial, so I experienced the full arc of the natural food company journey.
What is your favorite part about being an instructor/advisor?
I love sharing my experiences with entrepreneurs so they can learn from our mistakes. I get joy out of connecting people and helping them solve problems facing new food companies. They are setting up a whole business ecosystem, so if I can help them get to the right resource when they are young then we have all won.
I am extremely passionate about changing our food system. Life giving food products are part of that system. I figure, if we can help these new products succeed, together we can change the food system.
Tell us about a time that you were most proud in your role as an instructor or advisor.
I was very proud of how all the clients did in the Spring 2019 cohort. In their presentation to New Seasons they made beautiful set ups & gave engaging presentations. Their products are very thoughtful. It was so rewarding to hear the New Seasons team member's questions and feedback after so much work getting them to that point.
What kind of transformation do you see in your students during a course?
This spring (2019) was just my first session, but I have seen entrepreneurs light up with clarity when they see the way through. I had a client who decided that he didn't want to build a food company. He discovered that he was more passionate about serving people his food directly but didn't enjoy the production and manufacturing part of making a food product. Sometimes deciding not to follow through on an idea is as important as deciding to do it. He saved himself a lot of money not going down a path that was not right for him. Building a food business is hard work, so at the end of the day the entrepreneur needs to make sure it bring them joy – otherwise they won't be able to find that extra energy it takes.
What skills are needed in order for someone to achieve success in small business?
Passion, as I said above, fuels your drive & the extra energy that inspires you to get up at 6am or work 14 hour days. Tenacity. There will be rough times. Ability to listen to everyone, but also the ability to listen and act upon your own intuition. Nimbleness. Change is the only constant in business. If you can shift and move on you will experience a lot less stress. We as entrepreneurs cannot get attached to ideas or systems.
What do you think participants struggle the most with in this course?
Clients can get overwhelmed with the enormity of what it takes to start and run a Consumer Packaged. Goods (CPG) food business. It's like putting together a giant puzzle where all the pieces impact the other. The pieces that are/become available greatly impact how the business takes form. At Better Bean we went from cooking in pressure cookers to cooking the beans in steam kettles, because of what was available & what we could afford. This impacted numerous areas of our business from packaging to Costs of Goods Sold (COGS).
What I am struggling with most is how much the industry and market has changed. It's at a point of maturation. Most of the innovative product categories have been created. Doing business is more expensive and more is expected of the companies – it's not as easy to come to market with unclear branding or bad, untested packaging anymore. Our local retail partners are more tapped out. Stores aren't building more shelves, so they will likely discontinue another product to make room for the new one.
However, as the forever optimist, I see with any challenge an opportunity to get creative. I love thinking and problem solving. It is a time for new business models or different expectations or…. get creative!
How do you help them with this?
I remind them to take one step at a time and more generally that they do not have to have it all figured out right away. They will change their packaging. They might eventually change their whole brand or re-formulate their recipe. These things are wildly common. Again, the only constant is change.
If you could give one piece of advice to all your future students, what would it be?
Stay open & connect with your class peers as much as possible. Community is everything in this business!
How do you keep yourself knowledgeable and up to date on trends and industry standards in order to deliver the best quality of education?
I listen to numerous podcasts and read emails from foodboro & Nosh.com. I also continue to work in the industry & regularly meet with my peers. I currently work with OlyKraut, an Olympia based sauerkraut company with 11 years in business. There is no better way to be up to date to changes as actively working in the industry!
What do you do for fun?
I have two little kids under 5 so they keep me busy. We build Legos, go to the park, spend time with family and friends. I enjoy veggie gardening & am really on a house plant propagation kick (so yes I will take your cuttings & unused pots!). Cooking at home soothes me. I also co-lead a women's new moon group & generally love reading about astrology & spirituality. I think I get the very most joy from deeply connecting with new people – learning about their hopes, dreams & beliefs.