Global Trade Liaison, David Kohl, enjoys working with a wide range of businesses to assist them in understanding the opportunities and challenges related to global trade. He feels gratified when facilitating an increased perspective that leads to business success both domestically AND internationally. Here is his story. . .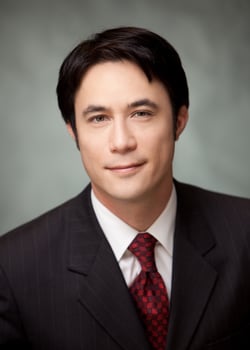 Why do you teach & advise? I enjoy working with a wide range of businesses to assist them in understanding the opportunities and challenges related to global trade. Facilitating increased perspective that leads to success is very gratifying.
What is your real world experience? My title is Global Trade Liaison for the Oregon SBDC Network Global Trade Center at PCC. My specialty expertise is in cross-cultural relations and the East Asia region. I have an extensive international network and deep experience working with Fortune 500 companies, top-ranked universities and government agencies around the world. Some of my clients include The U.S. Embassy in Beijing, Nike, Intel, Logitech, Columbia Sportswear, ESCO. I've also worked with security agencies at Portland International Airport and management at the Port of Vancouver, WA.
I am a U.S. Department of Commerce certified international trade adviser with a mission to identify and realize global opportunities. I have a federal appointment as a member of the District Export Council of Oregon, and sit on the National ASBDC (America's Small Business Development Centers) Professional Development Committee as International Trade Liaison, as well as serving as David is a NASBITE Certified Global Business professional (CGBP) and Certified CGBP trainer.
What is your favorite part about being an instructor/Advisor? My favorite part of this work is having an opportunity to connect people to resources that will help them engage successfully with people and businesses outside of the U.S. There is so much opportunity. Nearly 90% of the world's consumers live outside the United States. I love helping businesses connect to them.
Tell us about a time that you were most proud in your role as an instructor or advisor. Last March/April I was honored to represent the Oregon SBDC and National SBDC Networks at the NASBITE conference in Baltimore. I was part of a panel of agency partners that shared opportunities we have created in collaboration with other agency partners: the US Export Assistance Center (USEAC), Business Oregon, the Small Business Administration (SBA), Greater Portland, Inc., and the Oregon SBDC Network. This collaborative effort allows us to provide a basket of resources to our clients that helps them go global very quickly and effectively. The synergy we have created in Oregon is a model for many other SBDCs across the country. I'm very proud of that!
What kind of transformation do you see in your clients during your work together? It's great to see participants move from a place of fear and trepidation, with regards to global trade, to one of excitement and self-actualization.
For instance, one of our clients, Brew Doctor Kombucha recently won the SBA Exporter of the Year award. They had a lot of competition from home based kombucha brewers. With this kind of product the alcohol content and quality can vary quite a bit. This is fine for selling at local farmer's markets, but causes problems with exports. Once you go to a broader market consistency is crucial. In connection with the Oregon SBDC Network's Capital Access Team (CAT), we helped them purchase a special machine from Australia. This is a very expensive piece of equipment that enables them to provide a very consistent product. The machine made it possible for them to expand both domestically and internationally. Now they are in all whole foods stores in the U.S. and are exporting to Canada. It is awesome to see how growing their business internationally has also helped with their domestic business.
That's fascinating! What was the process they followed to get that funding? They self identified as an exporter which allowed them access to SBA and EXIM resources to exporters. They worked with us to include an export section in their business plan, and with our CAT Team to develop the loan package. This made it possible for them to apply to obtain resources that weren't available to businesses who only sell domestically. It's pretty cool, because now they are expanding into a larger facility and employ something like 100 employees! They went from a small shop to job creators and exporters!
What do you think your clients struggle the most with in this global trade program? We provide a lot of material and ideas in a short period of time. This can be overwhelming for some, but we ameliorate that with no-cost long-term advising in addition to time in class.
If you could give one piece of advice to all your future students, what would it be? I would urge them to continually expand their perspective, keep an open mind and not just stay in their comfort zone. The world is a dynamic place.
How do you keep yourself knowledgeable and up to date on trends and industry standards in order to deliver the best quality of education and advising? I work closely with a variety of global trade resource partners both in Oregon as well as nationwide – the US Export Assistance Center (USEAC), Business Oregon, Greater Portland Inc, the Small Business Administration (SBA), and local service providers. I am actively involved in discussions and programs meant to illuminate trade resources and apply them effectively. I am also the Chair of the international trade professional development committee for ASBDC, and as such engage on a regular basis with high level subject matter experts. I attend conferences and do my own research to ensure that I am up-to-date as much as possible.
A big part of my knowledge comes from making high level connections. It makes me proud that the PCC SBDC and Oregon SBDC Networks can be a leader in this area, and I'm honored to represent us.
What do you do for fun? I enjoy travel, disc golf, hiking, and being out in nature.
The next Global Trade Program starts October 4. REGISTER HERE!