Congratulations Wes!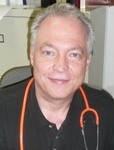 The Institute for Health Professions at PCC CLIMB Center is pleased to announce that instructor Wes Harwood received the American Heart Association's 2014-15 Regional Faculty Exemplary Service Award for PALS in Oregon.
This award recognizes exceptional faculty who go above and beyond in providing outstanding educational guidance and service to the community, in support of the mission of the American Heart Association. This award is a peer nominated award for one Regional Faculty per discipline in each region. Faculty members are peer nominated and then selected by the nominations committee.
The Institute for Health Professions is proud to have outstanding faculty like Wes in our ranks. He brings over 40 years of experience in the health care field and has a wide range of knowledge that supports our students in their learning and educational journey.
We are truly lucky to have Wes on our team! If you're interested in taking American Heart Association (AHA) classes with us, click here to find out more.