Did you know...
Investing in businesses used to be reserved for high net-worth individuals regarded as "accredited investors"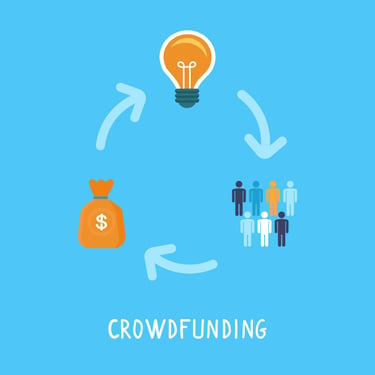 limiting the pool of investment for small businesses. But now businesses can receive investments from all Oregon residents.
This changed in January 2015 as nine companies that were part of an initial cohort assisted by Hatch Oregon (Portland-based non-profit business accelerator "innovation lab") prepared and launched a campaign to raise local capital through a process now referred to in Oregon as a "Community Public Offering" (CPO) raise.
The Rules
State securities regulators at the Oregon Division of Finance and Corporate Securities (DFCS) released the new rules in January 2015 allowing Oregon small businesses to legally raise capital by offering debt and equity securities to Oregon residents. The process is based on Oregon Administrative Rules called the "Oregon Intrastate Offering (OIO) Rules" (commonly referred to in Oregon as a "Community Public Offering" or "CPO"). Download a copy of the rules, here.
Oregon's CPO Rules are based on Section 3(a)(11) of the Federal Securities Act of 1933 known as the "intrastate exemption" that provide exemption from federal securities registration requirements. As of July 2015, Oregon is one of 24 states to pass laws allowing state-based securities crowdfunding, with another 13 on the way. Here is a current map that documents this nationwide trend state by state.
The Oregon rules allow for registered Oregon businesses to raise up to $250K from Oregon residents after meeting the requirements of the Rules and filing a notice with Oregon DFCS seven days prior to advertising, offering or selling their securities offering. Individual Oregon residents can now invest up to $2,500 per year per offering. To review FAQs about the rules, please visit: http://www.dfcs.oregon.gov/securities/faq_crowdfunding.html
About Hatch
Hatch Oregon is a Portland-based non-profit business accelerator that helped bring the CPO Rules to Oregon runs a quarterly CPO boot camp program assisting Oregon small businesses to prepare, launch, and host their CPO campaign using an online platform. Hatch is also working with communities around the state to coordinate local community investor meet-up groups to support the effort. As of this article, the initial companies using the CPO rules have already raised over $235K. Hatch is now gearing up to announce its 2nd cohort of Oregon companies working on their CPO launch campaigns this September. Read about current CPO offerings here.
SBDC Support
The Oregon Small Business Development Center Network has been an active part of the CPO rules making process by participating in the DFCS Working Group (along with other organizations) that developed the current CPO Rules.
To support and encourage small business stability, Oregon is the only state in the nation (so far) with intrastate offering rules that require companies raising local capital to have their business plans reviewed by one of the designated "Business Technical Service Providers". SBDCs are mentioned in the CPO Rules as one of several Business Technical Service Provider networks designated to provide feedback on business plans to Oregon companies using the Rules.
SBDCs can also provide support to Oregon companies pursuing capital raises by providing access to market research data, assistance with business planning and financial projections, guidance on a comprehensive finance strategy with multiple sources of capital, suggestions for developing a CPO marketing campaign and reminders about planning for investor management and communication. One thing SBDCs and other Business Technical Services providers can't help with is reviewing the securities offering documents as outlined in this SBDC video. Businesses are encouraged to work with their small business attorney to develop the terms of their Oregon CPO securities offering.
If you're thinking about raising capital this year to grow or start your business, talk to your SBDC Business Advisor about working with the Oregon Small Business Development Center Network's (OSBDCN) Capital Access Team (CAT). The CAT helps SBDC clients that have an updated business plan and financial projections get funded. CAT assisted 42 SBDC client companies in 2014 gain access to over $11M in capital statewide. To learn more about these economic impacts and working with the CAT, please visit: www.BizCenterCAT.org.