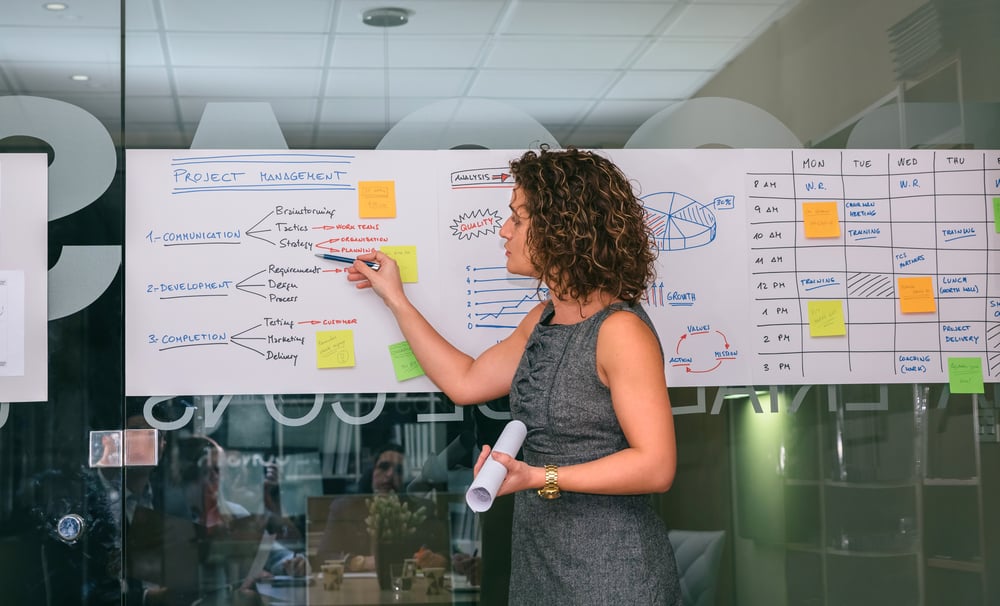 The complexity of many workplaces is growing every day, as efficiencies between multiple outsourced teams, complex equipment, and hard deadlines all conspire to create delays and miscommunications. Project Managers have become integral parts of IT, engineering, construction, and healthcare teams, untangling the needs of every interested party and making sure that no projects stay in limbo while waiting for answers from team members.
If you have an eye for detail, a diplomatic ability to work with people, and a firm ambition to get the job done, project management could be for you! What's more is that pursuing coursework related to project management really cannot hurt, since the qualities that make a great project manager also help individual contributors to perform their best and self-manage, impressing their own supervisors as well as the team members they work with.
Portland Oregon's Expanding Industries Need Project Managers
With high-tech industries hiring at a fever pace in the Portland area, this part of the country is experiencing a growing demand for project managers. With major healthcare research initiatives and advanced manufacturing also growing in Portland, many people are able to find an industry in which they have some background. They need to take just a few courses and a certification exam before managing projects in that field. Establishing a track record for keeping projects moving and keeping all stakeholders well-informed helps you to cement your place in this industry.
When only one or two people are working on a project together, it is often possible to manage the work between themselves. However, when there are multiple clients, workers, teams, or final products, it is helpful to use a standardized process that is used by Project Management Professionals (PMPs) who are certified through the Project Management Institute. This process includes making a plan, creating a Statement of Work, establishing scope, risk, and project benefits, as well as creating life cycle phases. It also includes clear wrap-up processes that help projects conclude smoothly and give companies the opportunity to start new projects together. In this way, project managers do important work for companies who need repeat contracts in order to thrive.
What PCC's Project Management Courses Can Do For You
Starting with Portland Community College's Project Management Fundamentals course is an excellent way to begin working toward your PMP. While it is not a certification course, it begins establishing the groundwork that will help you pursue that credential in the future. You'll work through the many stages of a project's life cycle and see how project managers unobtrusively but skillfully move the project along, keeping everyone's expectations managed while also ensuring that priorities are maintained throughout the team.
If you are perhaps already a PMP or are working toward it, you need certification credits toward your credential. Intermediate Project Management is a great fit for people who already have the basics down but are still striving to learn more. You'll learn more in-depth strategies for keeping projects on track, including tracking timelines, completing initial objectives, and responding to new discoveries while sticking to the overall goals. It will teach you how to modify budgets, manage risks, and administer a change control process. Keeping on track without expecting everything to go perfectly according to plan is a delicate balance, and our expert instructors help you to see opportunities to proactively adjust course and avoid spending time mired in obstacles along the way.
Part of the freedom of non-certification classes is that you don't have to pursue your project management professional certification, but the knowledge you gain will help you whether you continue on that course or not. Learning how to get your project management certification is a great next step after completing these courses, and you'll have a leg up already with some of the requirements met for taking credits in this field.
How to Get Project Management Certification
Project managers who pursue project management professional certification rely first on their own experiences managing projects, then also on the best practices of the field. Taking coursework in project management while pursuing opportunities to lead projects at work can start the progression into new career opportunities, or an intensive process to pursue the PMP certification. Either way, you'll learn new things, get the satisfaction of managing effectively, and make yourself even more valuable in the workplace.