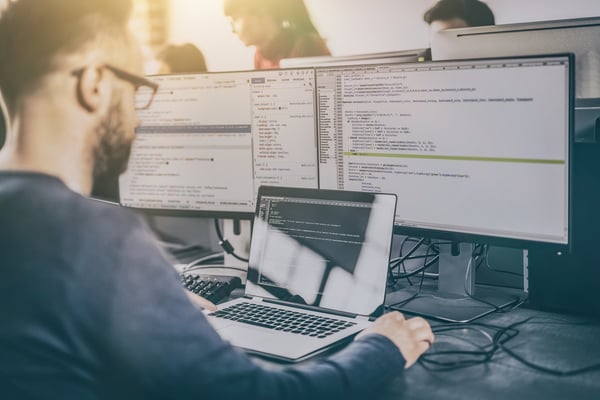 The internet is key to so many companies and industries, and every single website has to be created and maintained by someone with knowledge in web design. Learning web design, unlike some other computer-related fields, is incredibly straightforward. After a short course, you can launch a variety of careers in web design. After establishing expertise, web designers can continue learning new programming languages and new elements or software, building your skills to be more versatile and keep up with the times.
Web design and web development jobs tend to pay very well, with full-time web developers and digital designers making on average $77,200 a year, according to the Bureau of Labor Statistics. If you aren't ready to be a full-time web designer, however, a basic course in web design programs and fundamentals can make you a more valuable member of so many different kinds of teams. For instance, if you work in any capacity at a small business, they may not have the budget for a full-time web designer. However, when they need web design work done over time, they may be willing to expand your title or promote you in order to get web design into your job description. That benefits your career and the businesses that don't need a full-timer in that role.
Here are some reasons web design is a great opportunity, as well as how to grow from an interest in web design to learning the fundamentals yourself.
What Is Web Design and Why Is It In Such High Demand?
Web design, at its heart, combines both an aesthetic eye for what looks good on a website with an understanding of what makes a website functional. After all, you want the hyperlinks to look great and you want them to work when you click on them. Web designers learn technologies that drive the modern website landscape, including HTML, CSS, and JavaScript. Learning different software and management systems alongside what it takes to troubleshoot a malfunctioning website is all part of being a web designer.
Large companies, especially if their business is reliant on the internet, may hire multiple web designers to make sure that every aspect of a complicated website is kept up to date. Websites aren't static and require maintenance and revamping over time, which creates steady work for web designers. However, if you want a flexible career path that lets you scale up or scale down how much you are working, web design as a freelancer is another valuable option.
Many freelance web designers quote a price to their clients to create a certain size and complexity of the website. They may also charge ongoing fees to keep the website maintained, active, and looking good. If you are a freelancer, you may end up doing some of your own client searches, but once you have a group of businesses who rely on your for web design, you stand to make excellent money while being your own boss.
A third option is to take on web design as an additional duty in another job. Communications managers, for instance, often find it helpful to be able to submit press releases or add blog content to a website, and also handle other design elements themselves. If you worry that your job is in danger of being eliminated but you really like where you work, learning new skills like web design can be a way to diversify your skills and gain a bigger, more stable, and more necessary role for your team.
What You'll Learn in a Web Design Course at PCC
Even if you haven't worked in the past in a web-design field, taking the web design programs course at Portland Community College gives a comprehensive introduction to how websites work, teaching you the many elements of how to make beautiful, functional websites. The course is intensive and lasts a full year, helping you to emerge with a strong confidence in your own abilities as a web designer. Your projects will give you excellent portfolio options to demonstrate to either current or future employers what kind of work you'll be able to do for them.
Getting started in the field of web design doesn't have to be intimidating and you don't have to quit your day job to pursue this skill. Portland Community College recognizes the many opportunities that exist in the Oregon market and around the world for web designers. Our courses are designed to be as useful as possible in the modern marketplace. Read more about the many remote arts and design course options for your career that you can take at PCC. Sign up today.