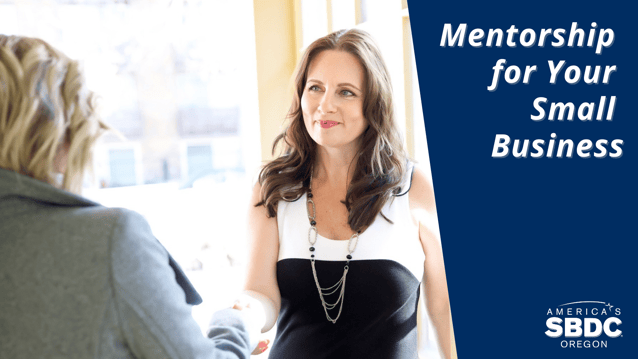 First published by the Oregon SBDC Network here.
What is a business mentor?
A business mentor is an experienced and trusted adviser who can provide support and business advice when it's needed. Whether they're starting or growing a small business, entrepreneurs can benefit from small business mentoring. Put your business on the track toward success through mentorship!
Find a local mentor in your community or industry
The best place to find an experienced business mentor is to start by looking at your personal network. However, if you want to work with someone outside your personal contacts, there are many ways to find mentors in your local community and industry.
It is possible to find an opportunity for small business mentorship through cold outreach such as connecting with someone on social media. But you're more likely to find success organically by leveraging a local networking group, or participating in a meetup or online forum.
Connect with SCORE mentors
For those looking for a more structured mentoring relationship, SCORE is a nonprofit organization funded by the U.S. Small Business Administration that provides education and mentorship through a network of volunteers. Dedicated to providing small business owners with the support they need to launch, grow, and achieve their goals, SCORE provides an array of services, including free, confidential mentorship on an ongoing basis.
The Oregon Small Business Development Center Network
Our mission at the Oregon Small Business Development Center Network is to provide expert advice, training, and resources for small business owners. Our Centers are conveniently located at Oregon's 17 community colleges, two state universities, and at the headquarters of the Columbia Economic Team.
One of the many benefits of connecting with your local Small Business Development Center is the free business advising services for small business owners. Tap into the insight of our knowledgeable team of advisers, and receive valuable small business mentorship through this no-cost service to get support at every stage as you grow your business.
Small Business Management programs
Many of our 20 regional Centers in the SBDC Network provide Small Business Management (SBM) programs. These programs provide a unique combination of classroom learning, one-on-one coaching from a business adviser, and business networking. The program can span up to a three-year period and covers a variety of management topics. Learn to identify and prioritize outcomes, and develop a plan to achieve them in your small business!
Finding and securing financing
When it comes to funding for your business, you want to ensure that any advice you receive is relevant to you and will help you succeed. The Oregon SBDC's Capital Access Team (CAT) is made up of specialized advisers located throughout the state who provide expert advice on accessing capital to foster economic growth and resilience.
Want More Advice?
The PCC Small Business Development Center is here to support you with no-cost business advising and comprehensive business training programs. Get started by requesting your first no-cost business advising session here.