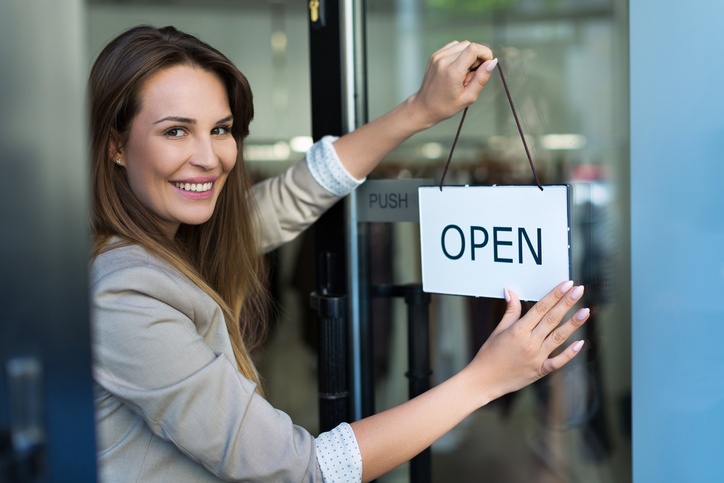 If you're a brick and mortar retailer, you realize how rapidly the retail environment has been changing, and the unique challenges physical retail is facing. For instance, online shopping is seeing tremendous growth and the cost of renting space is increasing.
The internet, in particular, is affecting brick-and-mortar store success, with online sales making rapid market share gains. Recent research indicates online retail rose by about 23% in 2015, and will likely maintain that same pace through 2016 and beyond.
But brick and mortar stores that know how to drive in-store sales in this competitive environment can still be successful. Here's some good advice on how to thrive in retail despite rising rent and online shopping giants, and adjust your retail strategy for today's consumer landscape.
Enhance the in-store experience
One way to draw potential customers away from online purchases is to enhance the physical retail experience to make it more attractive and engaging. This can be anything from telling a story about your brand, to offering excellence in service that simply can't compare with online and meet the client's experience expectation. People love online retail because it offers fast service, a variety of sizes and styles, and wide availability of products. But one thing online retailers can't offer is a memorable experience or the instant gratification of not having to wait for two or three-day shipping.
Brick and mortar retailers can capitalize on this by creating an immersive environment that engages all the senses. Some clothing retailers might have a DJ in the store, for example, or use scents throughout the space to elicit certain emotions through smell. And in today's mobile-savvy culture, customers value their time that much more, as mobile experiences compete for their attention. Smart retailers will offer next generation digital, interactive signage with which people can engage via their devices. Enhancing the queue experience to make it more fun and elegant will also go a long way toward not just bringing in new customers, but retaining them.
Make memories that relate to your brand
Another advantage to physical retail, as opposed to online, is that customers can create memories with their friends and family that they will then associate with your brand for a lifetime. Many large retail brands bring in a Santa Claus, for example, so parents and children can come into the store, have the experience of telling Santa what they want for Christmas, and get their photo taken. So in addition to getting their Christmas shopping done, they leave with a fantastic memory and maybe even begin a tradition of going back into that store each year.
Or think of having separate "Women's Night" and "Men's Night" in-store events. A clothing store, for example, could host "Ladies' Night," an evening featuring wine, music, and appetizers to entertain their customers. The attendees don't even have to buy anything right then, as they could be encouraged to "register" different items they would like to receive as gifts. Then, when their significant other attends a complementary "Men's Night," the "Men's Night" attendees can consider purchasing the items that were previously registered. It's these kinds of unique and fun experiences that tie in great memories and make buying from you an experience, and not just a transaction.
Excel at customer service
Customer service can be your biggest differentiator from the online experience. People miss out on face-to-face interaction when shopping online, and shopping at a physical store prevents them from losing touch with the human side of your brand. So make sure to create a helpful, kind, and customer-focused service experience in your space.
You'll want to create a customized shopping experience that's catered to the individual customer. That means offering alternatives and suggesting additional items that might work for that specific customer. If you're out of a specific color or size, maybe you can find it at another branch or special order it for them. By giving customers that high level of individualized service, you'll be offering them something that online shopping giants can't.
Embrace technology
To stay competitive with online retail, brick and mortar stores need to embrace the latest technologies. Things like Apple Pay, digital wallets, and mobile payment solutions should all be part of the technology roadmap for every retail store. Of course, you'll also want to have an online presence, whether it's a full online store or simply marketing your physical location on social media.
People are going to continue to shop online more often, that's just a fact. But what you need to do is to connect with them where they spend time online, so your store and brand will be top of mind. In today's world, this usually means advertising on social media and engaging in "social selling" of your products. Facebook advertising, for instance, isn't very expensive but can have a huge effect on brand perception.
In general, you want to mobilize the social media fans you currently have, who are already willing to engage with you. Recognize that by following your accounts, they've already given you permission to engage and market to them. So to convert them into paying customers, incentivize them with some kind of social promotion or coupon. Make sure it's something they can share on their own social accounts, print out, and redeem only at your physical location. By doing so, you're taking online interactions, and translating them into real world engagement and revenue.
Knowing how to thrive in retail despite rising rent and online shopping giants is critical for today's small to mid-size retailers. By taking steps like enhancing your in-store experience, focusing on customer service, and embracing technology, you'll be able to offer a differentiated (and in many ways superior) experience than the e-commerce big boys.