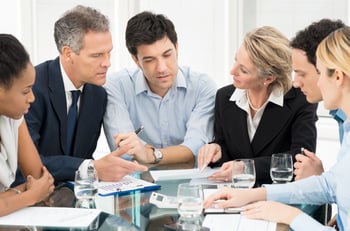 Being a project manager isn't easy. You have to keep your team motivated, and working, while ensuring they stay on schedule and on budget. It's easy to feel like you're not succeeding, or like you're the bad guy for wrangling everyone in.
In this post we're going to talk about the four things that will help you take your project management skills to the next level through concepts that sound basic, but can actually change everything.
Network with Other Project Managers
Especially if you don't work in a large company or organization that houses several PMO's with a number of project management teams, spending time with others in similar roles is a big part of becoming a better project manager yourself. Even if you do work in that type of organization, it's important to make an effort to spend time with other project managers — especially any senior project managers — at your company. Whether you do or not, joining a chaptered organization such as the Project Management Institute will offer you many more opportunities in this area, especially conferences and other outlets for professional development.
This type of networking will allow you to learn from others in similar roles and should teach you what works, or even what doesn't. These are the very peers that can help you get through a tough spot, who can offer advice because they understand exactly what you're going through and what the best practices for project management look like. You could learn (or share!) new skills, expand your professional reach, and get a big picture view of how you want to navigate your career map. This will also keep you up to date on issues, help you keep track of current trends and thought leaders, and connect you with valuable resources like industry journals.
Don't Shy Away from Harder Projects
They say "what doesn't kill you makes you stronger," and while that's something of a hyperbole, it does illustrate an important point — your greatest growth comes from your hardest difficulties. Challenging yourself is the best way to sharpen your skills, learn new ones, help your team to grow, and improve your standing with your peers and within your company. Playing it safe might be more comfortable, but you also risk stagnation.
You should never be afraid of your job, and so you should also never be afraid of what might go wrong within a project. For one thing, developing a risk management plan should put most of the contingencies you're likely to need in place; everything else is out of your control, relatively speaking. You need to be able to rely on your team to bring things together, and that may mean coaching them. This will help them grow too, not to mention develop their sense of value within your team and the company. You should also know that it's okay to ask for help — in fact, that's where networking should come into play.
Remember, not all "problems" with your project (or your team) come from something bad. Be confident in your team and your own ability to brainstorm and problem solve. So called problems are what help you and your team really shine.
Continue Consuming Information
This is a key factor in continuing to learn and grow in your field and as a project manager. And in some ways, this is much like networking. Reading industry journals is a good start, but that may not be right for you. Everyone learns differently and works differently, so you need to find the resources that work best for, not only your schedule, but for how you process information. That may mean listening to podcasts, watching TED talk videos, or reading blogs and social media (another area in which networking should help you find resources). Here's a few links to get you started:
There are many ways to consume information and there's bound to be one to suit your needs. You should feel free to ask your peers or mentor to suggest great content, and of course, search engines are only a click away.
Identify Where You're Weak and Continue to Improve
First, let's focus on the ways you can observe yourself and your team to make some of these determinations. Are you falling prey to some of the myths of project management? Is your team so focused on doing things right that you've all forgotten to do the right things? Are you lacking in any of top project manager skills?
Have you evaluated your greatest strengths as well as your greatest weaknesses? This is probably one of the first things people forget when evaluating work. Praising and fortifying strengths can offer the motivation and wherewithal to handle weaknesses and fix flaws. Merely tallying what you and your team can't do leads to discouragement and lowered productivity. Don't be afraid to take advantage of quotes and inspiration!
Are you putting your team members to work in areas where they are most effective? Remember, everyone thinks differently, processes information differently, and thus works differently. Some people will handle certain tasks better than others. Play to your team's strength, and don't forget the advantages of developing a team culture of innovation.
What should not be left out of consideration is the perspective of others. Talk to your team about how they feel you're strong or weak, and compare that with what your peers or superiors have said. Seek advice about how to improve the areas you're struggling in. (Yes, that's another reason networking is so important!) If you've curated good content to consume, don't be afraid to search for commentary on similar situations. You aren't the first to be in a given situation, and their experiences will be invaluable.
These four methods are simple and straightforward, but if you can apply them effectively, you'll absolutely be able to take your project management skills to the next level. Bring your passion and dedication to these methods, and you won't just make yourself an amazing leader, you'll make your whole team stronger.