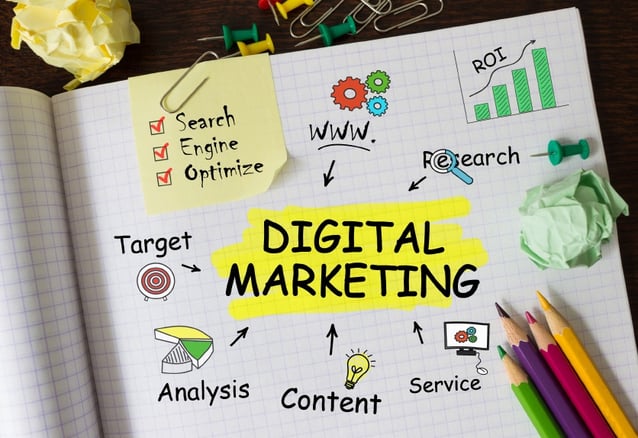 As a small business, it can be hard to set aside the budget necessary to do the marketing campaigns you want to do, especially with newer mediums like digital, it can be all too easy to feel overwhelmed. When you consider the fact that the U.S. SBA holds that a small business with revenue under $5 million (the average annual revenue of a small business with a website) should be spending about 8% of that revenue on marketing (roughly $400 thousand annually), it may surprise you than 83% of businesses with 50 people or less (i.e., truly small businesses, or about 90% of them) spend a mere $1,000 on marketing per month — this amount is only appropriate for businesses with revenue limited to $150 thousand annually, and digital is only a small portion of that budget.
This only proves how important it is to have a digital marketing strategy for small businesses. Without a plan, your business may be drastically under-spending on marketing efforts.
Research and Plan
If you're not drafting a solid strategy, you're wasting your resources and risking falling for hype and technological fads. Doing your research and having a documented plan are key, especially when you consider that a plan will help you avoid common digital marketing obstacles, including lack of training/experience, inability to identify or prove ROI, misunderstood or poorly measured metrics, and budgetary issues.

Hopefully you've already done some market research so that you understand some facts about your industry and your customers; if you haven't, you need to. This helps determine a few important things, including which digital channels you'll look into (e.g., social media, display ads, email, other inbound marketing). For instance, you can balance how much time each channel requires with how much money you need to spend on it. It also helps you identify opportunities you might not have recognized without taking the time to do the research. Then you should ask yourself what it is you're trying to accomplish with your marketing. In addition to the ways it assists with our points below, this helps narrow your focus and set your marketing scope. Both of which will help you save time and money.
In drafting your plan, you should be able to define your budget. By following the plan, you'll stick to that budget. More importantly, by developing a plan, you'll also key into risk management, which give you planned avenues to maintain your budget while adapting to changes, problems, and new needs.


Set Goals
When developing a plan, you can explicitly outline the individual goals for the marketing channels you've chosen and ensure that each aligns with your campaign goals. These are also important for being capable of measuring the ROI for each marketing tactic as well as the campaign as a whole. Otherwise, you'll never be able to tell whether your digital marketing has actually impacted your bottom line.
What's more, in creating these goals, you can determine what, if any, tools will help you measure and achieve those goals. About 63% of small businesses take advantage of digital marketing tools, probably because they help you save vast amounts of time, which turn out to save you a decent penny at the same time. Consider marketing automation tools like CRM and CMS, which can give you deep analytics in a single, unified dashboard.
Know Your Audience
Once you've researched your customers, you need to identify the audience of your marketing strategy. This is because you don't have to market to all of your customers at the same time or in the same way. In fact, segmentation will let you reach particular groups of customers in a more meaningful, more qualified way that's more likely to succeed. This avoids wasting time on an audience that's never going to convert while not only saving money for the same reason, but improving the ROI of your efforts.
Consider Your Branding
When you understand your goals, channels, and audience, your branding becomes a smooth process that takes less time and less dollars wasted on efforts that don't work. While A/B testing is still recommended, the results should be vastly improved, and so you'll end up having to do less.
Having a plan also means having an integrated marketing campaign that allows you to develop similar yet different creative for every channel without having to have several different teams working on each that have to re-work the same problems because they're working separately. For instance, giving your brand consistency in images while emphasizing different resolutions necessary for different types of media (e.g., graphics on your site should have a compressed resolution suitable for mobile devices to load quickly, while print graphics should have a high resolution for sharp image clarity).
With these four best practices for building a digital marketing strategy, you should be able to start the process creating a digital marketing strategy for small businesses that saves time and money. Remember, if you're still not sure how to get started, you can tap into the resources around you, from mentors to media partners. The most important part is, of course, having a documented plan in place that you can follow and adapt as needed.