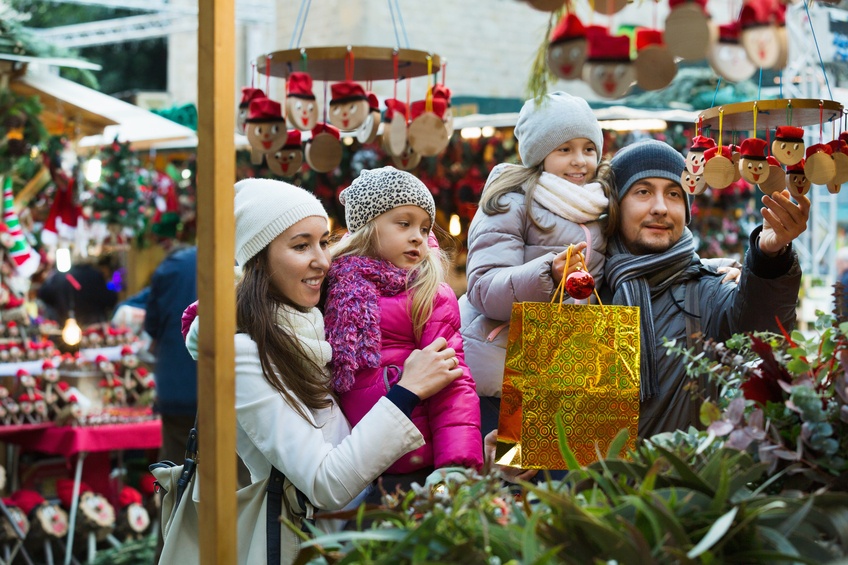 The Holidays are such an important time of year for small businesses. For many, especially in retail, the Holidays may make or break the entire financial year. Craft fairs and holiday markets have become popular among both consumers and small businesses during this time. But are businesses doing all they can to maximize their retail sales from holiday markets?
Small business owners basically have two goals at holiday markets; to attract more people and to sell more merchandise. But in order to have your booth truly optimized, there are some things you need to do in terms of your booth, merchandise and payment system.
Here's how to succeed at craft fairs by doing these, and a few other simple things, that will make a big impact on your sales.
1. Focus on Displays
People often go to holiday markets because they love seeing a variety of things to buy, and the fun or interesting visual elements each vendor utilizes. These displays will showcase your merchandise, and allow you to add other elements that communicate your brand. Make sure your display is appealing, and organized in a way that helps people shop and buy. Double check that the labels on all of your goods are clear and facing outwards.
At the end of the day, you want to create a customer experience in look and feel consistent with your culture and product, as opposed to you just sitting behind a table. Having employees wear branded clothing associated with your display is another great way of increasing visibility at holiday markets. Dressing for success is another opportunity to reinforce your brand and create another visual element in your display.
2. Up and cross sell with gift packages
The holidays are gift-giving season, so think about how to present your offerings accordingly. Think about taking one of your more popular items, and pairing it up with another item in a holiday gift bundle. You'll be able to move additional inventory, and the customer will have one less holiday gift to buy.
You might also consider custom on-site gift wrapping offering a selection of wrapping paper and gift cards. The holidays make it easy for you to combine items and experiment with different ways to upsell and cross-sell to customers.
3. Create a booth people want to visit
Your booth needs to be attractive and inviting. Creating a customer experience inspires customers to buy and to make referrals to friend and family during the holiday season and beyond. That means being welcoming, but allowing them space to move around, interact and converse. Make sure you have the right people working your booth, and that they're friendly, helpful and attentive.
Aside from being clean and inviting, make sure your booth is easy to navigate. Try to have samples on hand so people can interact with your product, while giving you time to converse with them and tell them more about your business.
4. Ease the purchase
While it used to be common to only accept cash at craft fairs, in 2016 it's become standard to have a card swiping option. The great thing is, with the advent of Square and other mobile payment solutions, you no longer need to invest in a swiping machine. You can simply attach Square to any mobile phone or tablet, and your device doubles as a credit card machine. The bottom line is that you want to ease the purchase process for your customers, whether it be cash, debit or credit.
But that's just part one of how to make more retail sales at holiday markets. Once you have an attractive display, have formulated an upsell strategy and implemented a payment system, you'll be able to move on to the steps we'll outline in Part 2.
Have you seen any memorable holiday or craft fair displays in recent years? Share your experience with us in the comments!
Part 1 of a 2-part series. For part 2 click HERE. Need help getting started? We can help. Learn more about our resources for retail business owners here.