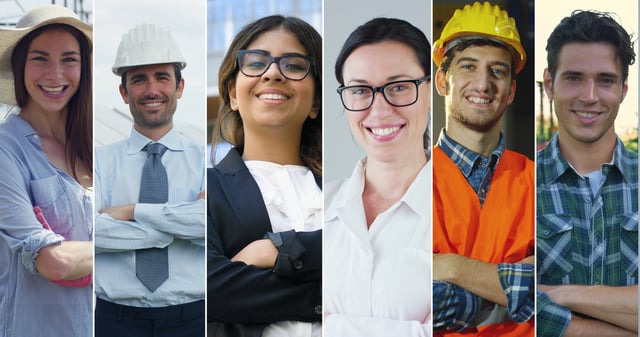 Portland is a city of the future, and the significant career trends reflect in the marketplace. While the 2020s have many uncertainties about what industries will emerge as most successful, it is becoming increasingly clear that specific fields will be vital in employing hundreds or even thousands of people, compared to past decades.
Portland Community College aligns our curriculum frequently to ensure that we're offering programs that prepare students for high-demand careers and the top growing industries in Portland. When you think of growing professions in the 2020s, you'll see these fields blossoming locally and nationally in the future.
Dental Lab Technicians and Assistants
With dentists using more technological tools than ever before, the Portland area will see a 23% growth in dental lab tech positions from 2019 to 2029! With programming to help dental assistants and dental hygienists, Portland Community College allows you multiple options to enter the dental field without the long-term commitment and cost of going to dental school to become a Dentist. After completing your affordable, flexible education, finding a job in this growing field may likely be quicker than the average job search!
Medical Assistants
As healthcare teams look to use their employees effectively during occasional worker shortages, medical assistants have become invaluable, with roles constantly opening up for them. The BLS reports the field is growing at an 18% rate. For people who suspect they'd thrive in a healthcare field, getting a one-year certificate helps you qualify for these in-demand and growing careers in the 2020s. While medical assisting is a great and sustainable career in its own right, many people use this career as a way to get substantial and valuable experience while deciding if other healthcare-related fields are of interest to them. 
Nurse Practitioners
While Portland Community College offers an associate's degree in nursing and has consistently grown in job opportunities, an exciting advancement prospect is becoming a Nurse Practitioner. Either later in a nursing career or after some experience, some nurses realize they want to be more directly involved in offering primary or specialty care. With a Master's degree, they can attain many of the day-to-day tasks of a general practitioner MD, all with less schooling and while drawing on their experiences as an LPN, RN, or other nursing levels. 
Physician's Assistants
Remember that you aren't limited to the long path through medical school when it comes to the next steps after a healthcare-related credential at Portland Community College. If you've realized that you want more diagnostic and patient care roles in a healthcare setting, the expectation is that the PA, or Physician's Assistant, career will be growing. Rather than the longer medical school track, PAs do a bachelor's degree and a master's degree before taking their certification exam and begin practicing.
While an MD supervises them, you'd be amazed how much of their work is similar to a doctor's day-to-day work, and this field is one of the top growing industries in Portland. The nurse practitioner needs in the modern career landscape are staggering, with a 45% growth predicted by 2030!
Computer-Controlled Machine Tool Programmers
CNC, or computer-numerically-controlled tools and general computer-aided manufacturing, is growing in the Portland area. For those who have always wanted to work with their hands and have a penchant for computer programming, PCC offers multiple certificate programs and an associate degree in Machine Manufacturing Technology. This program can lead you into the fast-paced, varied, and intriguing career path set to grow over the coming years. 
Substance Abuse, Behavioral Disorder, and Mental Health Counselors
Counseling has become a well-respected field where people want to pair an interest in helping others with a sustainable, long-term career path. The Bureau of Labor Statistics also reports that this field is growing at a 23% rate, meaning it has plentiful job opportunities when moving into a mental health counseling position after your education!
Cooks and Restaurant Workers
Restaurants suffered some setbacks in 2020, but the industry has surged and is growing faster than ever, with 22.8% growth expected in the Portland community. A hospitality training course can help you get an edge in this exciting and competitive industry where upward management options are available!
Growing Careers in the 2020s Begin at Portland Community College
As you can see, Portland Community College takes its mission seriously. We prepare people for the jobs that are growing now in the industries, like healthcare and computer-aided manufacturing that will continue to grow over the coming decades. Prepare yourself for the future with a certificate or degree from PCC, your local community college!