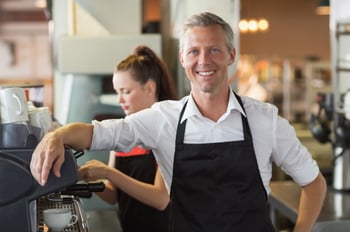 As a food entrepreneur (even an aspiring one) you already know that you belong to a creative group that's always looking for new flavors to love, restaurants ready with a fresh take on favorites, and the best sources to provide only the best ingredients. Foodies are resourceful and innovative, and food entrepreneurs have a can-do attitude and a devotion to sharing delectable experiences, great and small, that are practically contagious. Unfortunately, being good with food and having the bold desire to bring your food to the marketplace isn't enough to translate into a successful business.
Fortunately, PCC Small Business Development Center offers a 14-week intensive program to help you do just that—Getting Your Recipe to Market. In today's post, we'll explore an important part of how to grow your food business, which you'll learn about as a part of the course's market readiness training: horizontal and vertical growth strategies. Both are valuable methods for growing a business through the development of brands, products, production and distribution channels, and business partnerships, but we generally recommend one over the other when first starting your business.
What Is Growing Horizontally?
This growth strategy is generally understood to be spreading your business out, either by expanding to new regions, developing new brands or services within a particular market, or merging laterally with competitors. It was especially popular in the latter half of the 20th Century, not to mention successful, which is possibly best understood by considering a beverage industry giant—Coca Cola. While the company has its roots in a small town pharmacy, it has expanded to lead if not dominate almost every aspect of its market. It not only developed new products within the market (e.g., Diet Coke) but also acquired new brands (e.g., Minute Maid) to become a market juggernaut.
Drawbacks for Food Entrepreneurs
While horizontal growth sounds infinitely attractive and represents leadership in the market, it isn't going to be very good for growing your food business. To be blunt, it's most effective for brands that are already largely successful, corporations, and oligopolistic conglomerates. This isn't to say that there won't be elements of horizontal growth incorporated into your vertical growth strategy, but it shouldn't be your development goal as you start your business.
Think of it this way: As a very small business, horizontal growth is mostly seen in customers. In the first few years, as your brand starts to take off, it may seem like more customers will result in more sales. It sounds logical, but it fails to take an important point into account—how much each customer buys. Having lots of customers to serve that don't buy much volume can spread your resources very thin and put your brand reputation at risk.
To put easy numbers to it, having 100 customers sounds impressive, but if they only spend $10 each, that totals out to $1000 of revenue. Having 10 customers doesn't sound like a lot, and if they're only spending $10 each, that's true. But what if those customers are spending $100 each? It's an easier number of customers to nurture into regular, higher price point purchases, and the result is at least the same amount of revenue. Now, elevate that concept from customers as people to customers as stores. Which would you rather have, many outlets that only ever sell small volumes of product, or a few outlets that sell growing volumes of product?
Horizontal growth is attractive in part because it's so ambitious. As Joshua Fegles, owner of Jude's Foods and PCC Small Business Development Center alum of our Getting Your Recipe to Market class said, "When growing my business, I always have to keep an eye on the balance between growing too fast and too slow. It's easy to want to race ahead and spread myself too thin…"
What Is Growing Vertically?
This growth strategy involves a business taking over its production path either forward or backward, which is to say, controlling the parts of your product development or marketing that are normally performed by other vendors. (It's sometimes referred to as owning the value chain, or in Silicon Valley, a full stack business model.) This was popular in the early half of the 20th Century, yet it's beginning to see a comeback in 21st Century business practices. A good large-scale example of vertical growth is when Ferrero acquired a Turkish hazelnut processing plant in 2014, allowing it to mitigate supply risk by becoming the biggest supplier of one of its most important commodities. Similarly, Starbucks controls its entire coffee production and sales chain from the purchase of fair-trade beans to the point of sale in its own stores.
Benefits for Food Entrepreneurs
You may think this strategy is more ambitious than the last, but believe us when we say that growing your business vertically is especially successful within the food industry, even for small food businesses. It's smarter and more profitable than the risks associated with horizontal growth, giving you the room to nurture the opportunities for growth that are currently available. It also lets you preserve resources that aren't necessarily obvious, including turn-around-time, quality management, and extra costs (for instance, if your suppliers are price-gouging or tacking on additional fees).
Take Green BEAN, the organic and sustainable face of Bean LLC. Its CEO, originally hailing from Oregon, has changed the Midwest market by operating as an agricultural company that's also a grocery store, providing organic foods ordered online and delivered to customer's doors. Its fully vertical integration means it owns and controls everything from the certified-organic farms that grow its products to the warehouse, distribution, and logistics solutions that mean customers get what they've ordered in a timely manner. This gives Green BEAN an efficient model that has allowed it to not only survive in an industry known for its razor thin profits, but to thrive and grow in a market that practically didn't exist a little more than a decade ago.
Perhaps Fegles best summed up why growing your business vertically is a better tactic than horizontally: "…get the most out of the growth opportunities already in front of you before you chase additional opportunities. Recently when we met, we talked about growing sales and I was focusing on getting new retailers. [My PCC Small Business Development Center business advisor] helped me to realize that there were still many opportunities to go deeper with my current retailers and grow sales with them. That way I have a strong foundation of existing partnerships to build off of rather than many partnerships that never get much traction and take a lot of energy to manage and maintain."
If you're ready to get a serious start at learning how to grow your food business, follow in Joshua Fegles' footsteps and sign up for our class today. Getting Your Recipe to Market will connect you to food industry professionals to help you understand how the market functions, offers one-on-one mentoring to develop your food business, and gives you the information you need to know to not only avoid common mistakes but to succeed with industry essentials. It offers 36 hours of classroom training (three hours per class session) including a meeting with New Seasons Market representatives to evaluate your products and reserved space and showcase entry into the OSU Time to Market Trade Show. Contact our program facilitator today for more details.